| | |
| --- | --- |
| Photo Credit: Seth White/POLENET | A Twin Otter sits next to Fallone Nunatak, where scientists have installed a GPS and seismic station for the Antarctic POLENET project. |
Page 3/3 - Posted March 9, 2012
Upgrading the hardware
Developing hardier instruments for the harsh Antarctic climate has been critical to the success of the ANET array. Ten years ago, scientists struggled to keep the autonomous sites running through the austral summer, let alone the winter when temperatures can plummet below minus 70 degrees Celsius.
Now the ANET sites operate year-round. Iridium satellites allow scientists to stream the GPS data to home institutions, though the data from the seismic sensors are too big and must be collected manually every two years.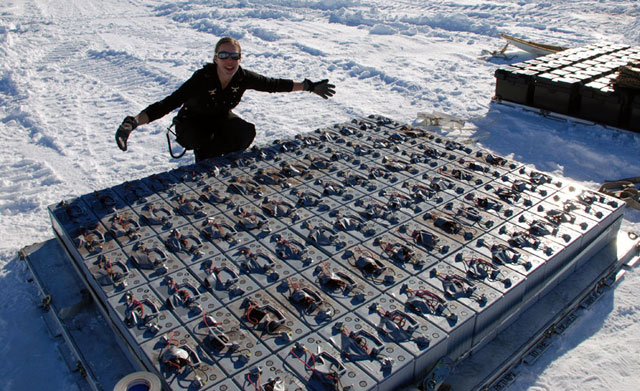 Photo Credit: POLENET
Scientist Stephanie Konfal displays a pallet of batteries used to help power the ANET sites.
Even if a communications modem fails, there's a second one available at each GPS station for redundancy.
"If it fails, by a phone call we can activate the other one," Wilson said.
The improved design of the observatories and the use of high-powered lithium batteries has truly been a game-changer for remote data collection, according to Patrick Shore

, field team leader from Washington University in St. Louis

who was at the South Pole Station

this season to service seismometers in East Antarctica.
The eight-instrument array was part of the AGAP project, for Antarctica's Gamburtsev Province Project

, a field campaign in 2008-09 that studied a mountain range under the ice sheet. Scientists used the seismometers, along with airborne instruments, to image the Alps-sized mountain belt, making a series of well-publicized discoveries.
A handful of instruments were left in the high East Antarctica plateau to continue to collect data. Shore and a small team of students from Washington University and Penn State

visit the array every year to collect the data, which requires swapping out instrument boxes at each site. The lithium batteries are replaced every two years.
"I can't change the batteries out in the field. It's just too cold. As soon as I open that box, everything freezes, cables are frozen, you can't move anything," said Shore, who works on similar seismic networks around the world, from Madagascar to Fiji.
Shore said the AGAP array would likely be folded into the POLENET program by next year.
Getting results
Patience is obviously a virtue when it comes to getting results from processes that unfold over years, centuries, even millennia.
But results are coming. Slowly.
For parts of the ANET array that have been operating for several years, the post-glacial rebound effect appears to be smaller than first predicted, according to Wilson.
In Greenland, where a similar network exists, called GNET, researchers recently reported a strong signal emerged in 2010 from the elastic response of recently melted ice.
Some GPS stations around Greenland routinely detect uplift of about 15 millimeters or more year after year. But a temperature spike in 2010 lifted the bedrock a detectably higher amount over a short five-month period — as high as 20 millimeters in some locations.
"It's kind of incredible but true," Wilson said. "You'll see a trend in the uplift rate that will suddenly accelerate. That acceleration is a signal of the fast ice-loss that is going on today."
It's the sort of trend Antarctic scientists expect to see around fast-flowing ice areas like Pine Island Bay. If they can ever get there.
Wilson points to a map where four red dots stand out. The final ANET sites.
"Maybe after the end of this season it will be nice not to have any more red dots on this map. That will be a happy moment," she said.
(Editor's Note: As of Feb. 9, the ANET team had installed three of the four Pine Island Bay region sites, completing, for all intents and purposes, the array.)
NSF-funded research in this story: Terry Wilson and Michael Bevis, The Ohio State University, Award No. 0632322

; Doug Wiens, Washington University, Award No. 0632209

; Robert Smalley, University of Memphis, Award No. 0632339

; Carol Raymond, Alberto Behar, Andrea Donnellan and Erik Ivins, NASA, Award No. 0632335

; Andy Nyblade, Sridhar Anandakrishnan, Audrey Huerta, Penn State University, Award No. 0632136

; Ian Dalziel, University of Texas at Austin, Award No. 0632330

; Richard Aster, New Mexico Institute of Mining and Technology, Award No. 0632185

; and Larry Hothem, U.S. Geological Survey.Back 1 2 3