| | |
| --- | --- |
| Photo Credit: Peter Rejcek | More than 200,000 breeding pairs of Adélie penguins return to Cape Crozier each year. Scientists collect biological samples to understand how some penguins are more successful in sustaining the population. |
Page 2/3 - Posted March 14, 2014
Ecosystem disruptions
U.S. researchers and their international collaborators monitor three other Adélie penguin (Pygoscelis adeliae) colonies around and near Ross Island – Cape Royds, Cape Bird and Beaufort Island.
By far the smallest, with about 3,000 breeding pairs, is Cape Royds. It is also the southernmost penguin colony in the world, making it the most difficult to reach, as the Adélies return each October to begin their breeding cycle, due to more sea ice than at other colonies.
That was particularly true in the 2000s when so-called mega-icebergs choked McMurdo Sound and caused the sea ice to thicken and extend to historical rates. Conditions became so extreme that the colony declined in population. Some birds, which display strong fidelity to their birth colonies, took up residence elsewhere.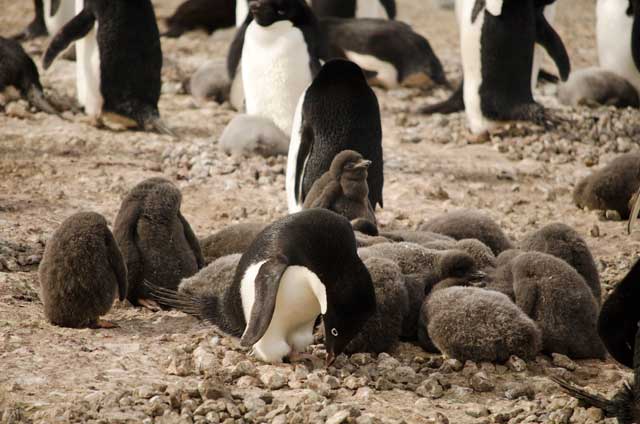 Photo Credit: Peter Rejcek
Adélie penguin chicks form crèches, the Adélie version of daycare, where the birds gather together for mutual warmth and protection.
Those days are gone, and there are signs that Royds is rebounding. Food has always been more plentiful there, with far fewer mouths to feed. In fact, there is so much prey for the Royds Adélies that generally there is always one parent at the colony at all times, unlike at Crozier when both mama and papa penguin must forage after their chicks reach a certain size.
The chicks form crèches, the Adélie version of daycare, where the birds gather together for mutual warmth and protection.
"I think there is more chick mortality at Crozier," notes Amélie Lescroël of the Centre d'Ecologie Fonctionnelle et Evolutive (CNRS)

in France and a co-principal investigator on the ongoing Adélie population study.
Lescroël was the lead author on a recently published paper in the journal PLOS ONE

that suggested climate change in the Ross Sea, specifically variations in sea ice, when combined with more frequent extreme events, such as the mega-iceberg era, may disrupt scientific predictions regarding the future penguin populations.
In other words, it's difficult to say what the future may hold for the Ross Sea Adélie penguins, though a paper currently in press by Phil O'B. Lyver et al has identified an upward trend in population for all the colonies but Royds since 2001.
However, even during the difficult iceberg years, it was generally the same 10 to 20 percent of the colonies that sustained the populations. These superbreeders, as principal investigator David Ainley at H.T. Harvey and Associates

, an ecological consulting firm in California, calls them, are one of the primary subjects of the project.
"Different individuals can have different capacity to acquire energy," Lescroël explains during an interview at McMurdo Station

shortly before the PLOS ONE paper was published in late January. "Some individuals are just able to acquire more energy than others, so they can allocate more for both survival and reproduction."
But even this part of the study has complications. Researchers believe a commercial fishery in the Ross Sea that catches Antarctic toothfish – a large, long-lived species marketed under the name Chilean sea bass – has disrupted the ecosystem.
The depletion of Antarctic toothfish (Dissostichus mawsoni) removes a primary predator for Antarctic silverfish (Pleuragramma antarcticum), which is also a main part of the Adélie diet, along with crystal krill (Euphausia crystallorophias). In previous decades, whaling also disrupted the food web.
"It's a bit sad to see. The Ross Sea is the last place on Earth where we can study how a normal, pristine marine ecosystem was working," Lescroël says.