| | |
| --- | --- |
| Photo Credit: Zongbo Wang/CReSIS | Richard Hale, professor of aerospace engineering at KU and associate director of technology for CReSIS, installs a radar system on the wing of the Basler aircraft at Pegasus Airfield near McMurdo Station. |
Page 2/2 - Posted June 13, 2014
Pushing it to the next level
The CReSIS team also used a manned aircraft, a Basler BT-67, built on a retrofitted Douglas DC-3 airframe, to fly a new ultra-wideband radar system across the ice streams that flow from West Antarctica into the Ross Ice Shelf.
At its most basic level, a radar system involves transmitting radio frequency energy to an object. A portion of that energy is reflected back to the radar antenna. The radar echo is used to determine the direction and distance of the reflected object.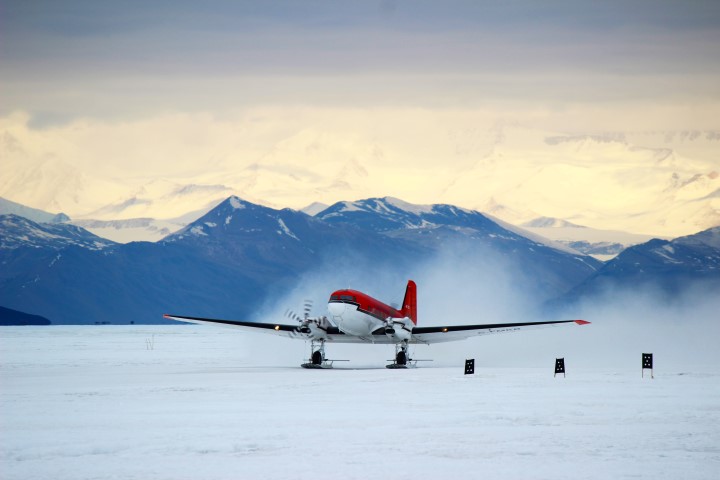 A Basler aircraft, the airframe used to carry the larger radar system for CReSIS, takes off from Pegasus Airfield.
The CReSIS radar systems come in a variety of flavors, from a so-called snow radar that has been used to measure thickness of snow over sea ice to a synthetic aperture radar system that, when combined with other techniques, can provide detailed elevation maps of the bedrock below the ice sheets.
The new radar system – with 10 times the resolution of previous systems – flown aboard the Basler targeted the grounding line zones that concern Anandakrishnan and other glaciologists. The team also employed a new method for increasing the imaging area of the ice bed by steering the radar beam in flight, creating some preliminary images while still in the field.
"The resources we've gotten through NSF have allowed us to really push the systems to a higher level than what we had been before," Leuschen said.
Going wireless
The NSF also funded the development of a new seismic sensing system. Reflection seismology uses seismic waves, or waves of energy generated from something like an earthquake or explosion, to learn about the properties of the Earth's subsurface.
Anandakrishnan at Penn State led the effort to develop a system free of cables or power cords, as traditional instruments involve lines of geophones strung together over several hundred meters. Such a system can be unwieldy, particularly in Antarctica, and particularly on nasty cold, windy days.
The new system involves independent nodes dubbed geopebbles that communicate wirelessly, with each containing all the electronics necessary to collect data independently. Prototypes were taken to the Ross Ice Shelf during the past field season for testing.
Anandakrishnan and his team also used a KU-built radar for ground-based studies on the ice shelf. The system is capable of detecting very small changes at the base of the ice sheet to determine if there is melting under way. And, if so, the melt rate.
"That's really one of the biggest pieces that's missing right now: How fast these ice shelves are melting and what the ocean circulation is doing," Anandakrishnan said.
Broad outreach
Many of the radar systems developed by CReSIS are used across the polar regions by different researchers and institutions. NASA's IceBridge

mission – an airborne campaign that involves flying various instruments around the Antarctic and Arctic to study changes in ice sheets, ice shelves and sea ice – employs several CReSIS systems aboard its aircraft.
"It's an amazing example of interagency cooperation," Anandakrishnan said.
Most of the Greenland ice sheet has been mapped by radar thanks to CReSIS, he added, peering through parts of the ice sheet that no one had been able to do before.
"It's been unbelievable," he added.
The center, which is nearing the end of its second and final five-year grant cycle in 2015, has been influential not only on polar research. Many CReSIS personnel note that the long-term program has greatly benefited young engineers and technicians. Keshmiri estimates as many as 400 students in higher education have been directly influenced over the past decade.
"The science impact is huge, but at the same time, training of the next generation of aerospace engineers is huge," he said. "Their lives have changed forever. And their career paths have gone in a totally different direction because of this project."
"It gives you a sense of accomplishing something," he added.
NSF-funded research in this story: Prasad Gogineni, University of Kansas, Award No. 0424589

. Current and former co-principal investigators under the same grant number: Linda Hayden, Geoffrey Fox, Sridhar Anandakrishnan, Ian Joughin, Kenneth Jezek, David Braaten, Richard Alley and Glenn Prescott.