| | |
| --- | --- |
| Photo Credit: Elaine Hood/Antarctic Photo Library | An aerial view of sea ice in the Ross Sea. Sea ice extent around Antarctica hit a new record in 2013. The cause is still being debated, but may be partly due to processing errors in the satellite data. |
Page 2/2 - Posted August 15, 2014
Sea ice in 2013 reaches new record extent
Sea ice extent around Antarctica was out also of the norm in 2013, with 116 new daily record high extents, especially during August to November. A new daily maximum sea ice area of 19.57 million square kilometers was reached Oct. 1, 2013. Only in two other years – 1988 and 2011 – in the 35 years of satellite records has the daily annual maximum been set in October.
So far, in 2014, NSIDC reported in mid-July that sea ice extent around Antarctica again appears to be on a record pace. On July 1, Antarctic sea ice extent was at 16.16 million square kilometers, or 1.37 million square kilometers above the 1981 to 2010 average. More tellingly, sea ice extent on July 1 of this year was 760,000 square kilometers higher than the 2013 extent for the same day, suggesting another record year may be in the making.
Increasing sea ice extent around Antarctica and global warming may at first seem to be paradoxical. NSIDC reported in its latest sea ice report on July 17

that there are a couple of leading theories put forward in 2012 for why the area of sea ice around the continent keeps expanding.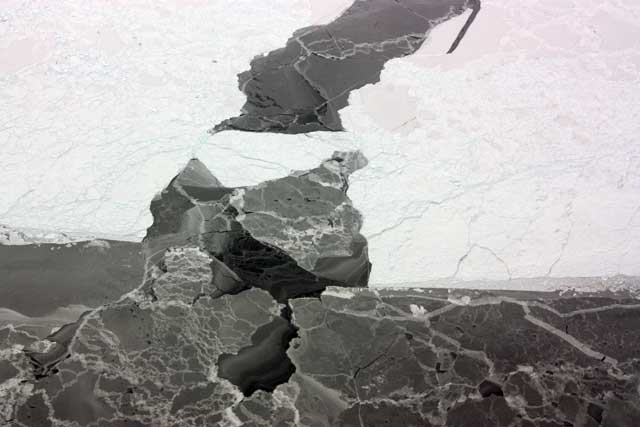 An aerial view of sea ice in the Bellingshausen Sea.
One hypothesis blames changes in local wind patterns, resulting from increased westerly winds around the continent, which have changed both how much ice is formed and how it is moved around after formation. A second idea also invokes changing wind patterns but suggests that meltwater from underneath large ice shelves around Antarctica is largely driving the expansion of sea ice.
More recently, in research partly supported by the NSF and published in the journal The Cryosphere

, scientists suggested that the record expansion might simply be an error in the processing of the satellite data itself.
The July report from NSIDC also notes that Antarctica's sea ice extent has also been highly variable. For example, austral summer minimum ice extents have varied by as much as 25 percent between 1979 and 2014 during modern satellite records.
The discovery last year of older satellite images from the Nimbus

I satellite, an early generation of Earth-orbiting spacecraft from the 1960s, showed that the ice edge in September 1964 likely exceeded both 2012 and 2013 record monthly average maximums. Imagery from August 1966 suggested a new historic low extent that had originally been set in 1986. See previous article — Rolling back the clock: NSIDC scientists reconstruct sea ice extent around polar regions from 1960s satellite imagery.]
"It … appears that Antarctica's sea ice variability may be greater than the 35-year modern satellite record would indicate, and that the current growth trend, while important, is not yet reaching unprecedented levels seen within the past century," NSIDC reported.