| | |
| --- | --- |
| Photo Credits: Peter Rejcek | The new Amundsen-Scott South Pole Station was officially dedicated on Jan. 12, 2008. At left, four veteran Polies lower the flag over the iconic dome. Top right: Arden Bement, head of the NSF, prepares to raise the USAP flag. Bottom right: Station personnel pose in front of the new station. |
A New Era
U.S. officials join station personnel to dedicate new research facility at South Pole on Jan. 12, 2008
Posted January 17, 2008
It's done.
Yes, just two words to express a story only a novel could tell properly. But the books will have to come later, when the moment becomes distant enough for history to put it all in the proper perspective for us.
For now, we must be satisfied knowing that one of the first engineering marvels of the 21st century has been achieved: the new Amundsen-Scott South Pole Station is complete.
The official moment came Jan. 12, 2008, at 3:20 p.m. when a delegation of U.S. officials and station personnel hoisted the Stars and Stripes at the main entrance of the elevated station. And the moment couldn't come soon enough – a scenario made obvious by the suburban sprawl of science across the flat polar plateau, visible from the semicircular observation deck where the flag raising ceremony took place.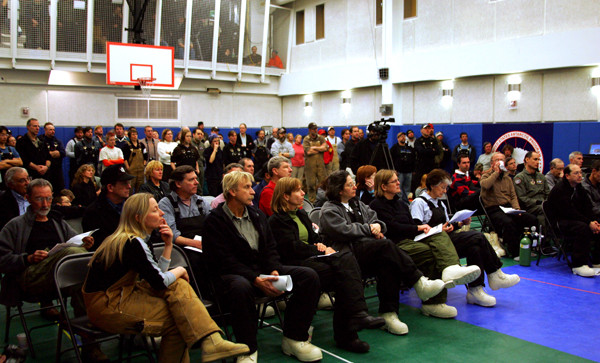 Photo Credit: Peter Rejcek
The U.S. delegation and station personnel gather in the new gym for the dedication ceremony.
"We actually did it. We actually put this entire project together," mused Jerry Marty, the National Science Foundation (NSF) South Pole representative and construction project manager. The NSF manages the U.S. Antarctic Program (USAP) out of the Office of Polar Programs (OPP).
"The pace was so intense – summer and winter – that you're now able to stand back and appreciate the magnitude of what we did here," Marty said.
What they did was move about 24 million pounds of construction materials to the most lonely spot on the planet. The feat required more than 900 flights by LC-130 ski-equipped aircraft flown by the New York Air National Guard over the span of a decade. Marty, like many present for the dedication, had been on the project since the beginning.
"You look back, and what [today] really means to me is the dedication, the esprit de corps and the passion of the people who have truly put this to together and have allowed us to achieve this over that period of time," he said.