| | |
| --- | --- |
| Photo Credit: U.S. Navy/Antarctic Photo Library | Radioman 1st Class Tom Montgomery, foreground, at the U.S. Navy Communications room at Williams Air Operating Facility, now known as McMurdo Station, in 1956. Montgomery often patched calls to the United States through the Madey brothers. |
Page 3/3 - Posted January 30, 2009
Not forgotten
Cliff Dickey was also at Pole that first winter in 1957, and would sometimes operate the ham radio. "I don't know when the guy studied. He was always there. He was a constant. My wife was in Cleveland and my parents were in California, so I would try to get a ham radio operator close to them, so the phone patch would not be long distance. But sometimes you couldn't get through to the hams who were close to where you were calling and you just knew you could contact Jules.
"You knew he would be there and he would put through the call for you. No matter what time it was, every night of the week. He was always there. K2KGJ. That was his call sign. Everyone in Antarctica knew it. It's been over 50 years and I still remember it. My wife and I made a point of visiting Jules when I returned to the U.S."
Jules was the first ham radio operator contacted from the South Pole, according to Dickey. Records kept by wintering personnel indicate contact was made on December 24, 1956, at 4:08 am GMT.
So high was the Navy's regard for Jules that they arranged for him to take a trip to Antarctica in December 1959. He flew in on a Super Constellation (C-121C) by way of Hawaii, Fiji and New Zealand. He got to visit Byrd and Hallett stations, but was unable to make it to the South Pole.
Making waves their livelihood
Jules and his brother John made careers out of their fascination with radio waves. Jules holds an electrical engineering degree from CalTech. He was a biomedical engineer in visual neurophysiology and sensory aids for the blind at Smith-Kettlewell Institute in San Francisco before moving back to the East Coast in the 1970s.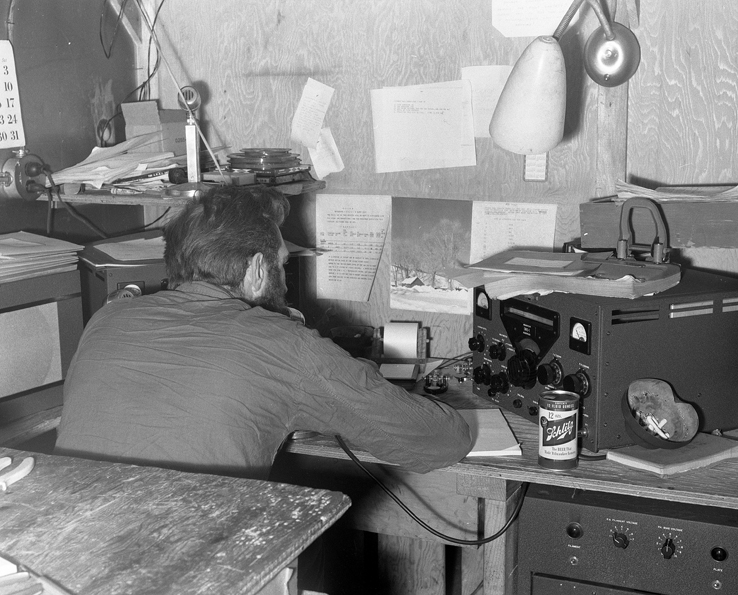 Photo Credit: Cliff Dickey
Cliff Dickey uses the ham radio to make a call to the United States during the 1957 winter at South Pole.
Today he is the director of Technology Development for the New York State Thruway Authority. He is responsible for development and design of components and systems for manual and electronic toll collection and Intelligent Transportation System functions — all which utilize radio waves.
But Jules is quick to point out that it is his younger brother who has gained fame for his study of electromagnetic waves, specifically laser technology. As an undergraduate student at CalTech in the late 1960s, John developed the first Free Electron Laser, and a few years later received a patent for it.
Today John is the director of the University of Hawaii's physics department Free Electron Laser group. "I can picture myself in the basement on a cold winter night, staring at the glowing vacuum tubes in the ham radio and wondering about the nature of them, knowing there had to be more to the physics by which radio waves could be amplified. There is no doubt that my ham radio days led me to where I am today," John recalls.
"We had extraordinary parents. They were children of the Great Depression who came of age during [World War II], witnessing amazing scientific and technological developments, from the birth of the atomic age to radar," he adds. "Mom graduated at the top of her class and Dad had his own automotive repair business, and although neither had a college degree, they were both very intelligent.
"They were surrounded by friends who were some of the leaders in high tech. Their friends would come over and discuss a recent invention or development, and thus our parents were always learning and then conveying this information to students who would be sent to our dad's business to learn. Our parents were determined that their two sons would have the opportunities that they had not had."
The New York Times widely covered IGY and Operation Deep Freeze, so the Madey boys were well aware of this global cooperative scientific effort. But to become a part of it, by patching through phone calls from the likes of Siple, already quite famous, and facilitating the science by transmitting scientific data reports, allowed the boys to feel that they, too, could become scientists.
John remembers, "Seeing, as a student, what goes on in these projects and understanding at a very basic level that you, too, could make things like this happen in your own career is an essential part of the education of the next generation of our leaders, whether scientific, business or political.
"I look at my own children today and lament the fact that we, I, did not facilitate the opportunities that we children of the 1950s had. Jules and I could get our hands dirty in our dad's machine shop, learning how to build things. Then we became an integral part of the IGY, being intimately involved in the science conducted. We were encouraged to experiment and build our ham radio tower. There was no end to it.
"Do children today have that opportunity? There has been no global effort to solve scientific mysteries as there was in the 1950s. Maybe global warming and the push toward alternative fuels will reignite an effort bringing youth and scientists together."