| | |
| --- | --- |
| Photo Credit: Liz Kauffman/Antarctic Photo Library | The ENDURANCE robot enters Lake Bonney to sample the ice-covered lake more quickly and in many more places than scientists can from the surface. A similar robot, but much smaller, may one day explore a subglacial environment or another planet for researchers looking for life in extreme environments. |
Page 2/3 - Posted May 15, 2009
Getting smaller
Those instruments are growing ever smaller as engineers work to miniaturize sensors and other tools to satisfy an array of science missions. But miniaturization is not just about outfitting robots with more tools than a Swiss army knife.
Take the ENDURANCE robot

, a nearly Volkswagen-sized instrument funded by NASA

and supported by the NSF for a project in the McMurdo Dry Valleys

, a relatively ice-free area in Antarctic used for ecosystem studies. The region is also a useful analogue for the sort of extreme environments found on other planets and moons, hence NASA's interest. [See related stories: Exploring Bonney and Taking the plunge.]
Scientists used the autonomous underwater vehicle (AUV) last year to explore an ice-covered lake — an environment that might exist on Jupiter's moon Europa. ENDURANCE may one day journey across the stars on a mission to discover life on that cold moon. But it will have to lose a lot of weight.
"It's not something that could easily be put into a rocket," Borg noted. Shrinking the scientific platform as well as the instruments will be a key to further exploration in Antarctica and beyond, he said.
Peter Doran

, principal investigator for the ENDURANCE project as well as for a long-term ecological study in the Dry Valleys

, said money is the main obstacle to miniaturization.
"How long [for deployment] is on the scale of a few years," said Doran, with the University of Illinois at Chicago

. "If there is a mision, and sufficient funding, there are no major impediments to scaling things down."
Noted Borg, "One day we might be able to put a robot with those kinds of sensors on it down a borehole and into a subglacial lake. NASA has strong interest in miniaturizing things as well. Integrating instruments into a coherent system that works well is a major challenge."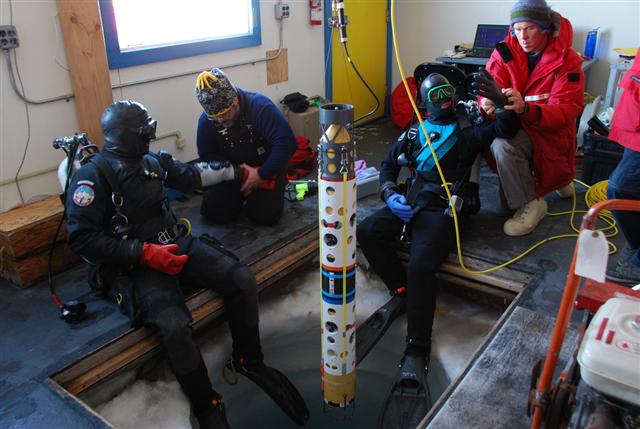 Divers prepare to accompany SCINI into McMurdo Sound.
A biologist interested in the marine critters that dwell on the seafloor in Antarctica has put together a team to develop a remotely operated vehicle (ROV) just skinny, rugged and light enough to take that plunge down the proverbial rabbit hole in the near future.
An adjunct professor in benthic ecology at Moss Landing Marine Labs

in California, Stacy Kim

and her team have spent the last two field seasons putting SCINI (Submersible Capable of under Ice Navigation and Imaging)

through its paces to perfect its capabilities for a variety of future science missions. [See related stories: SCINI in the Sound and Fitting in.]
Shaped like a torpedo and boasting a waistline of only 15 centimeters, SCINI is easy to transport and handle. It can currently cruise to depths of 300 meters, and an expected upgrade to its camera housing should significantly boost its diving limit to more than 1,000 meters. (In comparison, human divers in Antarctica are allowed to dive to 40 meters, which is the standard recreational limit.)
This year, Kim and her team, which includes engineer Bob Zook, hope to challenge SCINI with dives under a permanent ice shelf. Just below the shelf is a thick soup of ice called frazil ice. If SCINI can muscle its way through the needle-like ice crystals without problems, it will be ready for a variety of complex science missions.
"One of the places that have been relatively unexplored in Antarctica is underneath these permanent ice shelves," Kim said. "If we can prove that SCINI can access this system and work productively in them, then it opens it up for anybody — whether it's a benthic ecologist or a glaciologist or a water column chemist. Whatever their interests are they can utilize SCINI as a tool."