| | |
| --- | --- |
| Photo Credit: Peter Rejcek | Marine technician Chance Miller guides a CTD rosette off the ARSV Laurence M. Gould during the first day of the Palmer Long Term Ecological Research project on Jan. 5, 2010. The instrument measures physical ocean properties and collects water samples. |
Page 2/2 - Posted January 15, 2010
Crew works around the clock to deploy, maintain array of instruments
Of course, the Gould's crew isn't the only team aboard the ship working 24-7.
In addition to a score of scientists or more aboard the ship this month, working 12-hour shifts, the NSF's prime contractor, Raytheon Polar Services Co. (RPSC)

, employs a half-dozen people to assist the researchers. They fix scientific instruments and fabricate new pieces for instruments, such as metal frame for a net towed behind the ship that captures krill and other zooplankton in the water.
"The beginning of a cruise is very crazy for us because we have to fix or figure out how to get something running that might have been languishing in a warehouse for a year," explained Jamee Johnson, the RPSC marine project coordinator on this cruise. The title means that she works with the NSF grantees and ship crew on the mission plan and coming up with contingencies when necessary.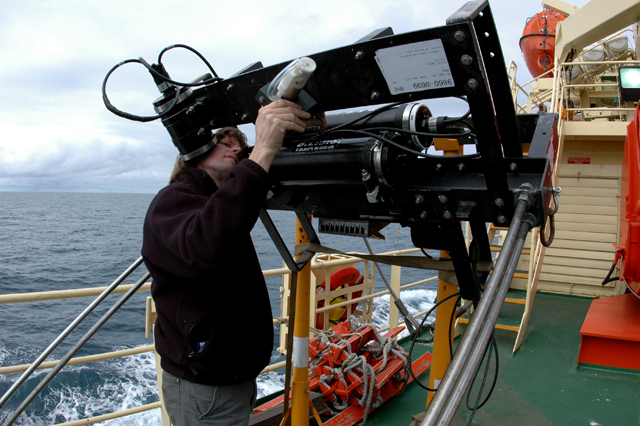 Photo Credit: Peter Rejcek
Marine electrical technician Tony D'Aoust works on the MOCNESS, a device that tows multiple nets for capturing tiny ocean critters.
"The interesting thing about working on the ships is that it's always different. Every cruise you go out on you're doing a different thing, depending on what scientists are studying," said Johnson, who originally started working on fishing boats in the Northwest to help pay for college before dropping out of school and working full time in the industry.
In 2001, she went to the very landlocked interior of Antarctica to work at South Pole Station

, before realizing the USAP had a marine science component. She's now worked every PAL LTER cruise in the last eight years.
"What I really like about LTER is that this science group has worked together on this same plan and same grid for so long that they really have all of their business worked out before they get here," she added.
Her team is a mix of veteran USAPers and recent additions to the program.
Tony D'Aoust — a rakish 44-year-old jack-of-all-trades who owns a fishing boat in Alaska — first worked in the Antarctic about 20 years ago on the Gould's predecessor, the RV Polar Duke. He recently returned to the program's marine department after nearly a 10-year hiatus. His job as the marine electronics technician (ET) is often to figure out why part A on any given instrument isn't playing nicely with part B.
For example, the first deployment of the CTD rosette, an instrument that carries 24 long, narrow tubes for collecting water samples at varying depths, had to be cut short because it wasn't relaying oceanographic information back to the ship. D-Aoust and Mike Coons, the other ET aboard, scrambled into action to get this vital piece of equipment back into action.
"I have a knack for being able to trace out where the problem might be," said D'Aoust after a marathon first 24 hours on the PAL LTER. "I make the computer talk to the instrument."
And then there's Chance Miller, a young marine technician — part deckhand, part machinist — who sports a tattered Popeye cap and biceps as thick as tree trunks. He's been around the program for a short while, though has already done an eight-month stretch aboard the ship with only a brief break.
Quick with a joke, the burly Alaskan also dispenses Zen wisdom to a passenger feeling a little green around the gills as the Gould rolls in the first swells of the voyage after a two-day visit to Palmer Station.
"Just keep breathing," he said. "Just breathe deeply."
That's not an easy task when you're working nonstop on the Laurence M. Gould.Back 1 2