| | |
| --- | --- |
| Photo Credit: Peter Rejcek | Palmer Station, bottom left, clings to the side of Anvers Island. Beyond is a string of small islands that are home to penguins, seals and other wildlife in the productive summer months of the southern summer. |
Palmer Station
USAP research base still going strong after 40 years
Posted May 21, 2010

[Editor's Note: The interviews and events in this article mainly took place in January 2010, at the height of the summer season at Palmer Station

, Antarctica. This year marks the 40th anniversary since the U.S. Antarctic Program's

smallest research station opened its doors to scientists.]
Palmer Station is a small place that seems to loom larger-than-life for those who live and work there for any amount of time.
I finally got my chance to visit the U.S. Antarctic Program's smallest research station — a handful of sea-blue buildings clinging to the rocky shores of Anvers Island — this past January.
See
History of Palmer Station
for a brief history of the U.S. Antarctic Program's only research base on the Antarctic Peninsula. For
a detailed timeline

, check out
Bill Spindler's excellent Web site on Palmer Station

.
That time of year on the Antarctic Peninsula is the equivalent of arriving in New York's Time Square on New Year's Eve — the place is abloom with life and the thunderclap of glaciers calving icebergs. The sun — when the Seattle-like gray curtain of clouds parts — shines nearly 24 hours a day.
Naturally, biological research dominates the marine ecosystem. Scientists study many of the big critters that inhabit nearby islands, like the barking Adélie penguins and the monstrously large elephant seals that lay in muddy wallows, gurgling and burping like a city sewer. Other biologists dive under water to observe the murky forests of algae and the sea creatures that swim among the long tendrils of seaweed.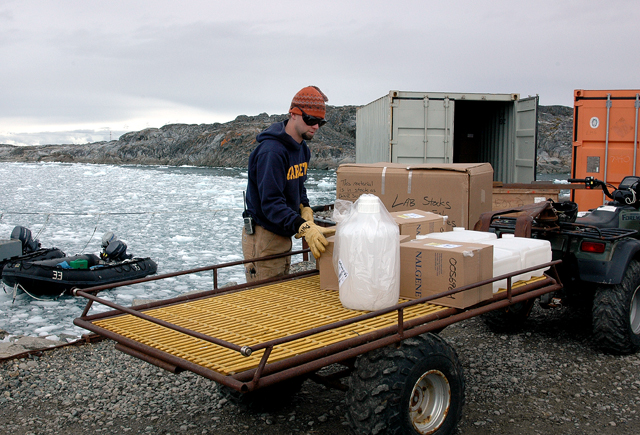 Photo Credit: Peter Rejcek
Phil Spindler, assistant supervisor of laboratory operations at Palmer Station, loads a trailer with science equipment.
This is also the time when the research vessel Laurence M. Gould

steams down the length of the peninsula as part of a long-term study of the region, which is undergoing rapid changes from global warming. Its sister ship, the RVIB Nathaniel B. Palmer

, is also nearby this season, on a two-month expedition to collect data on climate change and the evolution of the ecosystem since a massive ice shelf collapsed in 2002.
Palmer Station serves as the base of operations for much this research — part town, part laboratory and part warehouse. About half of its 45 bed-capacity is reserved for support staff — the carpenters, electricians, cooks, mechanics, technicians and others who keep Palmer running. Their job is to ensure the scientists can focus on their research.
"It's stripped down to the bare minimum support staff that we have on station to complete all of the work and keep on top of the maintenance," explains Phil Spindler, assistant supervisor of laboratory operations at Palmer Station. It's a job title that means he's the point person for science support, though like everyone at the station, he and his small department juggle many responsibilities.
"A lot of this job is logistics management, materials tracking, chemical safety, lab allocation," he says while touring the bottom half of the Bio Lab building, where about a dozen labs house all manner of beakers, glassware and equipment, from dissection microscopes to something called a high-performance liquid chromatographer that isolates chemical compounds.
"Almost everything is meant to measure something, whether it be light, temperature, time or speed," notes Elizabeth "Lily" Glass, an instrument tech, who tracks, maintains and fixes the 900 pieces of equipment located at Palmer Station and off-site at a warehouse in Punta Arenas, Chile, the embarkation point for USAP vessels and personnel.
Fortunately for Glass and her incoming replacement, James Bucklin, there's about 900 instruction manuals that come with the job.
"If you had to know everything from the get-go your mind would explode," says Glass, who has also worked aboard the ships in a similar capacity.
"I wouldn't have come down here if I had to know it all," quips Bucklin, one of the few people at Palmer Station making his first visit to the Ice. 1 2 3 4 Next