| | |
| --- | --- |
| Photo Credit: Robert Schwarz | The 2011 South Pole geographic marker is in the shape of a sextant, an instrument used for navigation by early explorers. This year marks the centenary of the achievement of the South Pole by a team of Norwegian adventurers led by Roald Amundsen. The bronze marker was designed and fabricated by USAP personnel during the 2010 winter. |
A century later
New South Pole geographic marker celebrates 100 years of discovery
Posted January 3, 2011
A new year and an old century merged at the South Pole on Jan. 1, 2011.
U.S. Antarctic Program

personnel gathered at 90 degrees south latitude on the first day of the new year to unveil and place the geographic marker for 2011. This year marks the 100th anniversary of when Roald Amundsen and his Norwegian team of adventurers reached the South Pole, the first people to stand at the bottom point of the planet.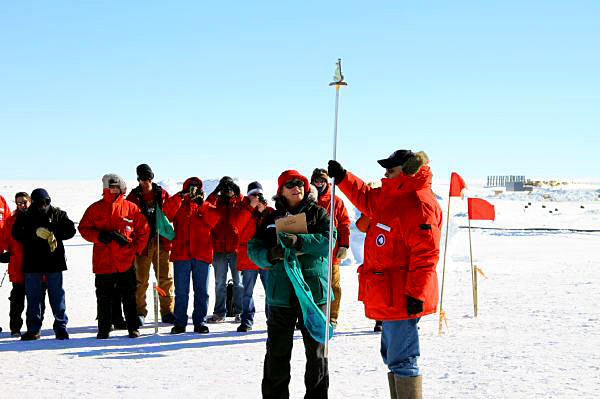 Photo Credit: Robert Schwarz
South Pole winter site manager Renée-Nicole Douceur, left, and Vladimir Papitashvili, National Science Foundation science representative, unveil the new geographic marker on Jan. 1, 2011.
The new bronze marker is in the shape of a sextant, an instrument used for navigation in the Age of Exploration. There are 47 individual degree marks on both sides at the bottom of the marker, representing the number of people who wintered at the South Pole in 2010.
In addition, a free-spinning "medallion" sits in between the angled arms of the bronzed sextant, which rests on a pedestal that displays the names of Amundsen's crew. On one engraved side is a well-known image of Amundsen and three other men admiring a tent flying the Norwegian flag at the South Pole. On the other is an engraving of the modern South Pole Station

.
Winter-over machinist Derek Aboltins fabricated the 2011 marker based on the design by fellow winter-over David Holmes.
Each crew that winters over at the station designs and builds a new marker, which the following summer crew places during a ceremony to reposition the marker on Jan. 1. The station sits on a moving ice sheet, which shifts about 10 meters, or 30 feet, each year.
This year's ceremony included a speech by Renée-Nicole Douceur, the 2011 South Pole winter site manager.
In her remarks, Douceur said, "In remembrance of those who risked and gave their lives in discovery of this vast unknown continent — and to those who now, 100 years later, turn to the heavens and inner earth, to discover and explore the new frontiers of tomorrow — we unveil this most befitting marker that embodies the spirit of all explorers and adventurists who set foot at South Pole."
The first pole marker was created in 1959, though it was intended to reside in the research station that had been built by the U.S. Navy in 1956. During the 1976-77 season, the U.S. Geological Survey

installed a marker at 90 degrees south to mark the nation's bicentennial birthday.
The tradition of creating a new marker each year appears to date back to the 1980s, with the designs becoming more and more elaborate over the years.
For a fuller history of the South Pole geographic marker, see the previous article, A Good Point.