| | |
| --- | --- |
| Photo Credit: Peter Rejcek | A New York Air National Guard LC-130 offloads fuel at the South Pole Station in December 2012. This past season marked the Air Guard's 25th year of supporting the U.S. Antarctic Program. |
Air support
NYANG marks 25 years of flying 'skibird' across Antarctica
Posted April 5, 2013
The New York Air National Guard's 109th Airlift Wing

marked its 25th anniversary of supporting the U.S. Antarctic Program (USAP)

during the 2012-13 summer field season.
The unit made its first trip to Antarctica in January 1988 when the U.S. Navy

was still supporting the National Science Foundation

, which manages the USAP. The 109th has completed a 10-year average of more than 3,000 flying hours each Antarctic season, more than most units complete in their entire year of operations.
During 2012-2013, the unit completed 310 total missions, flying 2,219 hours and transporting 6.4 million pounds of cargo and fuel. The 109th also airlifted 3,602 passengers to and around the frozen continent.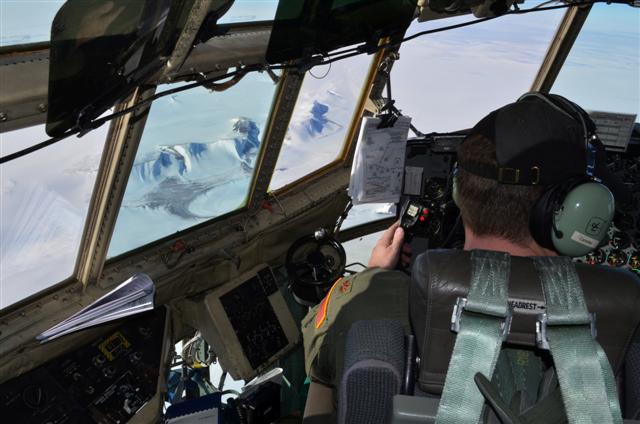 A view of the Transantarctic Mountains from the cockpit of an LC-130 airplane en route to South Pole.
Antarctic operations for the 109th have seen many changes over the years. In 1988, the unit sent down only two aircraft to augment the Navy ski-equipped LC-130s. By 1999, the Air Guard and U.S. Air Force

assumed responsibility for all air operations from the Navy.
This past season, the 109th deployed six of the "skibirds" to Antarctica in late October. LC-130 hub operations were based at McMurdo Station

and flown out of either the Sea Ice Runway or Pegasus Airfield.
The 109th plays an integral role in supporting the South Pole Station

and in establishing remote camps. Construction of a new South Pole Station, which was dedicated in 2008, required about 925 LC-130 flights, which transported more than 24 million pounds of cargo over the course of about a decade.
Over the past quarter-century, the 109th has helped establish more 100 remote field sites. This year alone, 14 sites were active, including the South Pole Station.
Sustainment of operations in these far remote locations requires the capability of the heavy airlift aircraft to provide enough fuel, equipment and supplies to keep researchers safe and able to conduct their science missions. All camps and the South Pole require ski take-offs and landings, and many have ungroomed surfaces. The 109th Airlift Wing is the only unit in the world that has aircraft with this capability.
"When we go out to the deep field there are always challenges. A great deal of hard work goes into planning and executing every deep-field mission, but it pays off knowing we are supporting the NSF with new discoveries all over the continent," said Maj. Joseph J. DeConno, LC-130 navigator and chief of current operations, in a NYANG press release. "It's some of the most challenging flying I've ever experienced, and every flight is unique."