| | |
| --- | --- |
| Photo Credit: Peter Rejcek | SuperDARN (Super Dual Auroral Radar Network) near McMurdo Station is a radar array that monitors the highest layers of the Earth's atmosphere. It is one of a dozen or so experiments that runs through the winter at McMurdo. |
Night shift
McMurdo science takes on different look during the winter
Posted August 9, 2013
McMurdo Station

is busier than Grand Central Station during the austral summer, when hundreds of scientists pass through the hub of the U.S. Antarctic Program

for research on everything from penguins to paleontology.
The winter is a different story.
We have 141 people down here this season over the cold, dark months. What is interesting is how few of these people are doing any science during the winter. If you include the 12 people at New Zealand's Scott Base

, there are basically five people doing science.
Two of these people are technicians with science backgrounds who are hired to monitor and fix long-term monitoring projects. A couple of others oversee a NASA

satellite ground station. Only one person on station directly works for a university, and he is the only official National Science Foundation (NSF)

grantee at McMurdo this winter.
So we have about 3 percent of the people at the research stations on Ross Island directly involved in science. The other 97 percent of us help keep this place from being overrun by the environment and prepare it for the wave of people at summer.
So, what science do the five people on station actually do?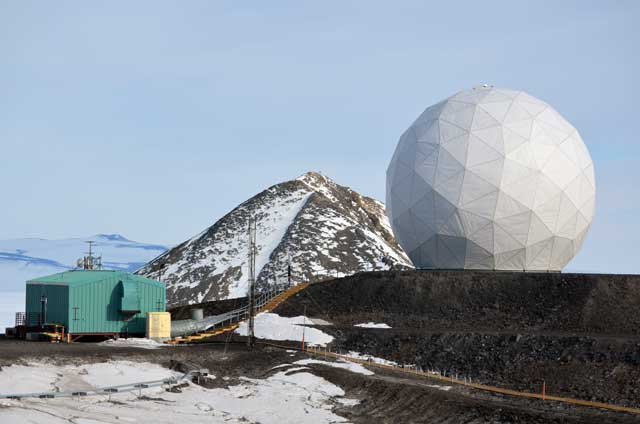 Photo Credit: Peter Rejcek
NASA satellite ground station near Arrival Heights above McMurdo Station.
We have many long-term projects. By far the biggest down here is NASA's McMurdo Ground Station (MGS), the busiest satellite-tracking station in the space agency's Near Earth Network (NEN)

. It was recently upgraded during the 2010-11 season. [See previous article — Getting a lift: NASA upgrades ground station at McMurdo as new missions come online.]
The MGS supports 25 passes per day of weather, radar, solar, earth imaging, oceanographic, atmospheric, and other polar-orbiting satellites. There's not another active south-polar ground station during the winter, so many of the low-Earth orbit satellites prefer to downlink their data here.
They can — and do — downlink in Alaska or Norway, but that's 45 minutes later than what we can give them (half of a 90-minute orbit). When you are dealing with breaking weather, that time difference can be a big deal.
Two people operate and maintain the station, working from the Joint Space Operations Center, or JSOC. The ground station itself is a 10-meter-wide dish housed in a golf ball-looking radome on a hill overlooking McMurdo Station.
Not far from NASA's ground station, in an area known as Arrival Heights

, is a University of Colorado-Boulder

project that uses LIDAR to study the characteristics of the upper atmosphere. [See previous article — Light it up: LIDAR in McMurdo illuminates upper atmopshere characteristics.]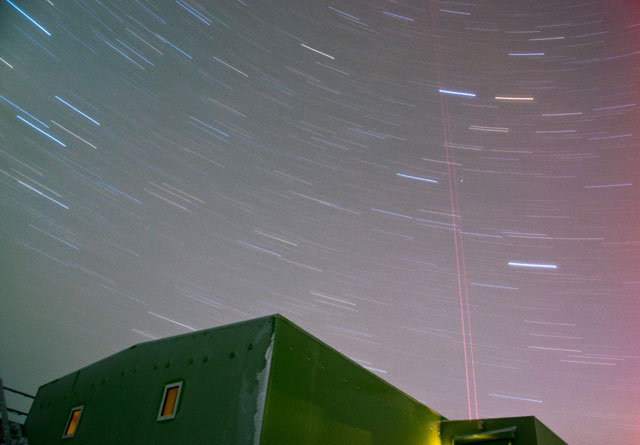 Photo Credit: Zhibin Yu
Two LIDAR beams shoot out of the Arrival Heights lidar observatory during the winter at McMurdo Station.
Weichun Fong, the current winter-over PhD student from Boulder, goes to Arrival Heights on clear days and spends as long as he can stay awake firing two non-visible pulse lasers into the atmosphere, exciting iron particles into different energy states.
The LIDAR can provide high-resolution information about the atmosphere from its stream of photons. It can determine temperature by measuring the frequency and power ratio of the backscattered light by an optical receiver system on the ground from where the laser is transmitted.
It can also detect polar mesospheric clouds, which at about 85 kilometers above the Earth's surface, are the highest clouds in the world. The clouds are noctilucent, meaning they can be seen from the ground only at night, when they are illuminated by sunlight no longer visible from the Earth's surface.
The same instrument was also used at the South Pole Station

and Britain's Rothera Station

. Currently, they are using an Alexandrite laser (also used for tattoo removal, interestingly enough), which they are looking to upgrade in a few years. It will give them more data retrieving capabilities, such as measuring wind speed.
Arrival Heights is an Antarctic Specially Protected Area (ASPA)

, a designation under the Antarctic Treaty System

that requires a permit to enter to protect certain values. It is unique for several reasons, but the most important is that it is an electromagnetic quiet area.
Arrival Heights is also where we find our other two science engineers. Liz Widen is the McMurdo Station research associate who is responsible for overseeing a wide range of mostly autonomous experiments, many of them located at Arrival Heights and a few at the Crary Lab

in town. Other experiments are remotely located, but send their data to McMurdo.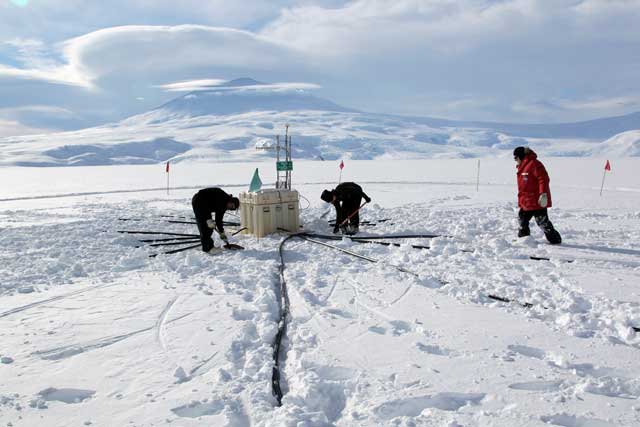 Photo Credit: Vicki Beaver
Scientists make upgrades to the CTBT infrasound station at Windless Bight during the 2011-12 summer field season.
Liz will visit the white building at Arrival Heights almost every day to check on the instruments. During the winter, she has to do it without using vehicle headlights within a half-mile of the site to keep from disturbing light-sensitive instruments.
In the past, research associates have been caught in bad weather up there, so the facility is outfitted with a bed, snacks, and a jet toilet (incinerates nicely, but smells horrible). I think of Arrival Heights as Liz's domain, but it's also home to a green building used by the New Zealand Antarctic program. Tim Delany at New Zealand's Scott Base maintains the experiments there. It is also home to the CU-Boulder LIDAR project.
There are more than a dozen ongoing experiments that Liz maintains or oversees on station. Some highlights include:
Hopefully that gives you decent overview of the science I have been supporting this winter, as part of the 97 percent.