| | |
| --- | --- |
| Photo Credit: Miguel L. Brand-Wiener/Antarctic Journal | Capt. Pieter Lenie views ice conditions after the research vessel HERO met impenetrable ice on Dec. 3, 1977 at the entrance to Arthur Harbor on the first trip of the season to Palmer Station. Lenie passed away at age 91 on March 1, 2015. He served as master of the HERO for about 12 years and sailed into many unexplored regions during his tenure as captain. |
Passing of a legend
Death of Capt. Pieter J. Lenie at age 91 marks the end of an era in Antarctica
Posted April 20, 2015
"Captain Lenie, who owns Antarctica?"
Pieter Lenie hesitated only a moment before replying,
"I own it…It belongs to me."
– Michael Parfit,
South Light: A Journey to the Last Continent
He could be implacable and more stubborn than a train of mules. Author Michael Parfit once described him as "autocratic and opinionated, sometimes remote, and master of the long, cold stare named the stink-eye." A former chief engineer of the research vessel Hero reportedly said, "he was 90 pounds of wet bobcat."
But those who knew Capt. Pieter J. Lenie – the scientists who depended on him to reach the unreachable and the crew that depended upon him for their lives – the long-serving master of the Hero was, well, a hero.
"I had this tremendous confidence in the guy that absolutely nothing could go wrong," recalls biologist Bill Fraser, who first sailed with Lenie in the 1970s as a young graduate student studying seabirds.
Notes Bill Leslie, also known as Jack Fids, who crewed with Lenie for several years in the engine room and idolized the captain, "He was everybody's hero on that ship. … He was unbelievable and always reliable."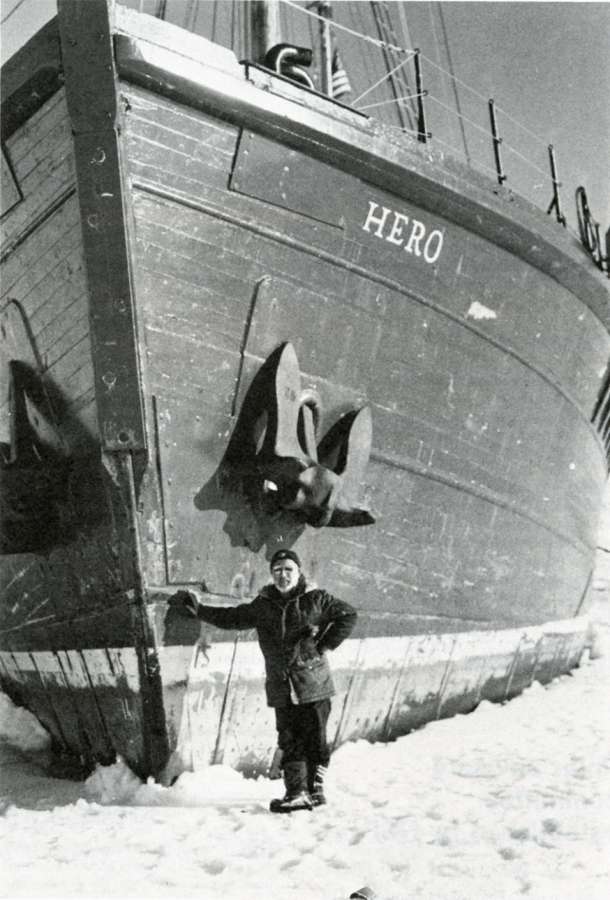 Photo Credit: Miguel L. Brand-Wiener/Antarctic Journal
The complete photo of the one featured above shows Capt. Pieter Lenie leaning against the HERO at the sea ice edge near Palmer Station.
On March 1, 2015, just after midnight, everyone's hero, Capt. Pete Lenie, died at the age of 91 in Brevard County, Florida.
Born in Neil, Belgium, in 1923, Lenie became a merchant marine around the age of 14. On the day that would live in infamy – Dec. 7, 1941, with the bombing of Pearl Harbor by the Japanese – Lenie joined the crew of an American vessel. Later, he was serving aboard a different ship when it was torpedoed during World War II.
Lenie's career would take him around the world many times over, as an officer on military supply vessels during most of the major U.S. wars of the 20th century, then as a second mate, first mate and captain on numerous merchant marine ships and tankers.
He was a harbor pilot at Cape Canaveral and Jacksonville, Florida, and he recovered missiles and other debris during the early years of the space program at Cape Kennedy. Lenie was also an accomplished pilot.
"He led an amazing life," says his daughter Alida Williams. "He took every opportunity to learn something new, and to teach people some things they didn't know. He was an amazing man in so many respects."
It was as master of the research vessel Hero – a 125-foot sailing ship made of native-oak timbers, Oregon fir, and tropical greenheart from Guyana, South America – where Lenie's legend took root and grew. He became the captain of the Hero in 1972, about four years after it was commissioned as a research vessel for what was then called the U.S. Antarctic Research Program. He would retire with the ship in 1984 when she was decommissioned.
"He would never have retired unless they retired the ship. He would have stayed with it," Alida Williams says. "He decided he would retire with her."
In the dozen years as master of the National Science Foundation vessel, Lenie supported research into regions where few, if any, had ventured before.
"I can guarantee that some of the places – in fact, maybe most of the places – he took that ship there were no soundings. The charts were just blank," says Fraser, who today is one of the principal investigators on the Palmer Long Term Ecological Research (LTER) program and a leading expert in polar seabird ecology, particularly Antarctic species like the Adélie penguin.
In 1975, Fraser was a graduate student still unclear about his future when he joined Lenie and the Hero on a cruise down the western coast of the Antarctic Peninsula to Marguerite Bay. Even after an estimated 14 years of time on the Ice over a span of four decades, Fraser says he's never seen wildlife abundances as he did during that expedition.
"You had this feeling, in many cases, that you were in an area that nobody had been before – at least there was no record of anyone being there before," he says. "Some of the interests that shaped my career were developed during that trip.
"Capt. Lenie had an impact on my career trajectory – just his own sense of adventure," he adds. "He loved that area, and he was willing to show it off to us newbies."
Lenie still navigated using a sextant, an instrument used for navigation, and by dead reckoning, a process of calculating a position by using a previously determined position, along with estimated speed and course. There was certainly no GPS back then, though the ship did have access to the world's first satellite navigation system called TRANSIT.
No one doubted Lenie's abilities in the dangerous, unexplored polar waters.
"I think the primary reason that Capt. Lenie inspired such confidence is that he was so comfortable in that Antarctic environment," says Harold "Skip" Owen, who joined the Hero as a newly minted marine officer in April 1983 and worked for the U.S. Antarctic Program on and off for the next 30 years. "He knew his ship; he had amazing local knowledge and maintained close contact with the other national bases.
"He would sit on the bridge and drink his tea in the captain's chair, and only occasionally direct the mate on watch – but he was always paying attention," Owen adds. "He took the helm in any dicey situations; he could handle that ship like it was part of him, and always with total aplomb."
Maggie Amsler was a recent college graduate during the 1979-80 austral summer when she boarded the Hero for a study on krill, a shrimp-like crustacean in the polar marine food web. Her faculty advisor at DePaul University, Mary Alice McWhinnie, a pioneering female scientist who had become close friends with Lenie, had prepared Amsler for her meeting with the mercurial captain.
"I distinctly remember him grumbling about another girl – 'gerl' – on board," Amsler says. "I knew that I, too, would need to prove myself."
And she did. For several days, Amsler scrambled up and down from the bridge to the deck in oversized boots – women were still a rarity in the program then, so gear was sized for men – and invariably fell up or down the steep stairs. Lenie asked if she was OK after Amsler returned to the bridge following a long absence, resuming a story he was telling only after she got back.
"That day I felt I had earned my keep in his eyes," she says.