| | |
| --- | --- |
| Photo Credit: Mike Lucibella | Firefighter Mike Meriwether hauls a bunch of hoses past one of McMudro Station's big red firetrucks into the fire station. |
Podcast: The Fire Department
Always Ready
Posted March 01, 2021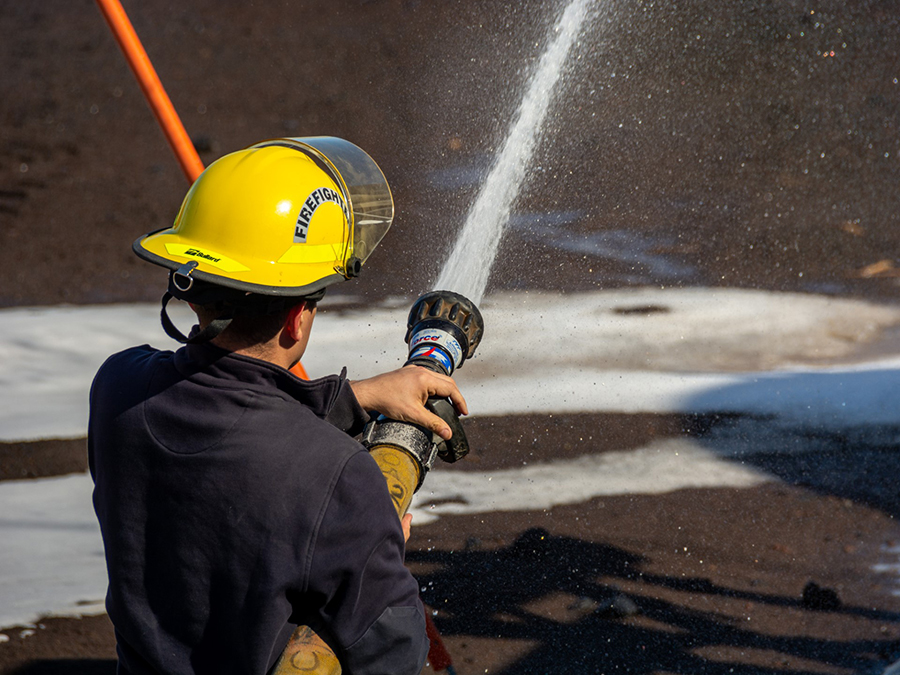 Photo Credit: Mike Lucibella
Firefighter Mike Meriwether shoots a stream of water during a hose test, an annual check to make sure all of the station's equipment is in good working order.
In Antarctica, scientists conduct cutting edge research on a harsh and barren continent. It's no easy task, but to help make it happen, the U.S. Antarctic Program employs small army of support staff to get these researchers the supplies they need, transport them to where they need to go and keep them safe throughout.
A lot of the jobs they do are the same that any small town needs to function, often with a specialized twist that comes with working in such a remote place, but others can be less obvious. The Antarctic Sun Podcast is taking a behind-the-scenes look at the workers and what they do to make science at the bottom of the world possible.
This Episode: The Fire Department
Even on a continent without any trees, fire is a big concern. The dry, windy conditions mean that if left alone, a spark could get out of control quickly. At the same time, safety requirements at the station's airfields necessitate a firefighting force on hand anytime a plane is taking off or landing. Together, it's why the fire fighters at McMurdo Station's fire department are always ready to respond at a moment's notice to any emergency call.
With a team of about 50 people and a unique fleet of response vehicles, the McMurdo Station Fire Department is an unusual combination of a municipal fire department and an aircraft rescue and fire-fighting service. It's a critical department and responsible for the safety of people and property all over the sprawling station.
Photo Gallery