Features - Life on the Ice
Most Recent
Making music at McMurdo provides a taste of home
Features / Life on the Ice
Monday October 18, 2021
Living and working in Antarctica can be challenging, but the staff at McMurdo Station use music to build friendships, express their creativity, and bring beauty to the harsh conditions of the continent.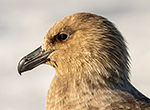 The Infamy of the Skua
Features / Life on the Ice
Monday November 16, 2020
Like clockwork in late November, the residents of McMurdo Station look to the sky and spot something that many haven't seen in months - birds. The arrival of these feathered creatures is greeted by many with curiosity and anticipation, but also with some suspicion.
Quick Find
Archives
2021
2020
2019
2018
2017
2016
2015
2014
2013
2012
2011
2010
2009
2008
2007
Print Issues: 1996-2006
More Results
Dec


15


2017
Building People Up at McMurdo's Chapel
The U.S. Antarctic Program brings people of all faiths and religious backgrounds together to support science at the bottom of the world. Situated at the end of town, McMurdo Station's small, blue and white Chapel of the Snows stands out against the comparatively drab shipping container-like structures surrounding it.
Nov


15


2016
Secretary of State John Kerry Travels to Antarctica
Secretary of State John Kerry visited McMurdo Station on November 11, 2016, becoming the first Secretary of state to travel to Antarctica, and the most senior U.S. government official to do so. The purpose of the trip was for Kerry to meet with polar researchers studying a wide range of topics supported by the National Science Foundation (NSF), many of which related to the global implications of climate change.
Sep


13


2016
House of Ice
During the months-long, dark and frigid winter at the South Pole, members of the station's winter crew spend their free time in lots of ways. Some read books, others watch movies or work on art projects. Still others build igloos.
Feb


02


2016
Icestock Rings in the New Year
Brisk winds blew through a bundled-up crowd, as they collectively bobbed their heads and swayed along to live music. The musicians played below large blue cutout letters that spelled out "ICESTOCK," McMurdo Station's annual New Year's celebration and the world's southernmost outdoor music festival.
Jan


25


2016
Safety Rodeo Roundup
It was no ordinary heavy equipment safety lecture. On a windy Sunday afternoon, a crowd of McMurdo residents gathered at the at the cargo storage area above town to watch McMurdo Station's first annual "Safety Rodeo." Two teams from Fleet Ops competed against each other, driving IT-28 Caterpillar loaders through an obstacle course while a crowd sitting in the grandstands cheered them on.
Jan


10


2016
Yoga in McMurdo
On any given day, residents around McMurdo Station might be found doing the cobra pose, sun salutation or downward dog. These are all poses used in yoga, which has become one of the station's most popular after-hours recreational activities.
Dec


21


2015
Baker Swap
In a show of gastronomic diplomacy, McMurdo Station and New Zealand's Scott Base swapped chefs for a few afternoons in December, giving the cooks a chance to pick up new tricks and station residents a taste of each other's culinary culture.
Dec


15


2015
McMurdo's Crafty Side
For one afternoon in December, McMurdo's dining hall was transformed into a small bazaar of handmade wares. At the annual December Craft Fair, station residents gathered to display and swap the arts and crafts projects they've been working on during their off-hours.
Nov


12


2015
Two Nations Honor Their Veterans
Residents of McMurdo Station and New Zealand's Scott Base joined together on Veterans Day to honor the service of their nations' men and women in uniform. Through speeches, prayers and a ceremonial flag raising, service members and station leaders from both countries recognized the bravery of those in the armed forces.
Jun


15


2015
Numbers Game
Spending a winter in Antarctica is just as challenging as it sounds. For the 45 people who remain at the South Pole Station through the cold and dark months this year, winter is a unique experience shared by a rare few. This year's crew by the numbers.
May


11


2015
Day of Remembrance
On April 25, New Zealand's Scott Base crew invited McMurdo Station residents to make the two-kilometer trip over the hill and join them in celebrating ANZAC Day, a holiday honoring the fallen soldiers from the Australia and New Zealand Army Corps in World War I and subsequent conflicts.
Apr


06


2015
Sorting It Out
A scavenger bird of the Antarctic, skua is also the adopted name for the collection of miscellaneous items that USAP participants leave behind for use by current and future residents. The collection of available skua is never greater than at the beginning of the winter.
Feb


23


2015
New Priorities
The National Science Foundation's 2016 budget request to Congress calls for $7.7 billion, which represents a 5.2 percent increase over last year. The FY16 budget includes a request for $449.51 million for the Division of Polar Programs.
| | | |
| --- | --- | --- |
| Results 1 through 15 of 93 | Page 1 of 7 | |