| | |
| --- | --- |
| Photo Credit: Peter Rejcek | Randall "Crunch" Noring awaits a helicopter at Marble Point. Noring has served as the camp manager at the helo way station for 14 summers. |
Page 2/2 - Posted June 1, 2015
Shallow water
About a decade later, another report published in 1972 by Bechtel Inc., reconfigured the plans based on the previous data. Again, the price tag seemed high, between $1.1 billion and $1.25 billion over a 20-year period for construction, operation and support. As part of a planning study in 1978, the company Holmes & Narver re-examined the Marble Point proposals and made new estimates for the construction of a station, an airfield, and a port facility, according to Mellor.
"The plan was not taken up for a number of reasons, cost being a major factor," explained Dave Bresnahan, who started working for the NSF in December 1970 and retired from the agency in 2007. In 1972, at the time of the Bechtel report, Bresnahan was responsible for logistics.
"To be cost effective McMurdo would have to close and all operations would have to move to Marble Point," he added. "That would require costs way more than the program was ready to spend just to get a hard-surface runway."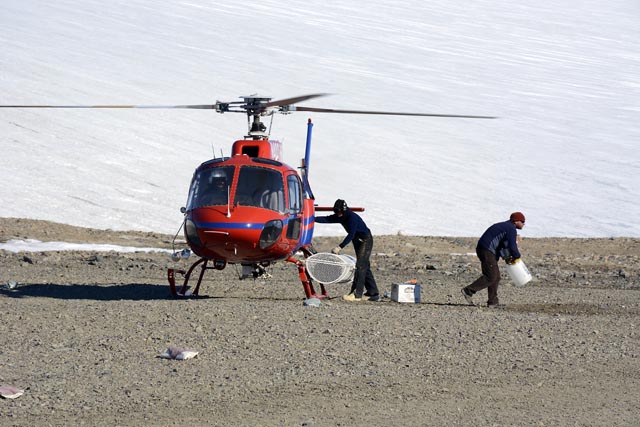 Photo Credit: Peter Rejcek
Marble Point's Randall "Crunch" Noring and fuelie Dan Vedra unload a helicopter.
Marble Point also had another distinct disadvantage: no deep-water port. Each summer two ships arrive at McMurdo Station, escorted by an icebreaker, with supplies and fuel for the next year.
"The natural harbor at Winter Quarters Bay was not something that was available at Marble Point, and significantly more ice and thicker ice had to be dealt with to get ships into the Marble Point location," Bresnahan noted.
He said one proposal to build just a hard-surface runway at Marble Point was considered for a time. However, the expense to maintain two large facilities, as well as transportation between the airfield and McMurdo Station, was also cost prohibitive.
In 1992, construction of a hard-ice runway called Pegasus White Ice Runway was completed less than 20 miles from McMurdo Station on the McMurdo Ice Shelf. The airfield, which has had some melt issues during recent summers, has a thin compacted 'white ice' pavement that can support wheeled aircraft. It will be used this coming winter to support regularly scheduled flights to McMurdo Station for the first time.
Truck stop for helicopters
Marble Point remains what Noring calls, "a truck stop for helicopters. … Everything a truck stop would do, we do for pilots."
That most obviously involves refueling helicopters. A half-dozen hard tanks can hold about 150,000 gallons of fuel. These days fuel to Marble Point is delivered by a traverse, a train of heavy equipment hauling sleds over the sea ice from McMurdo Station.
The job had often been handled by U.S. Coast Guard icebreakers until about 2003, when the sea ice in McMurdo Sound had thickened due to a blockade of icebergs. Conditions have returned to normal, and the USCG cutter Polar Star was scheduled to refuel Marble Point this past season but the logistics didn't work out.
Marble Point is also the unofficial gateway to the McMurdo Dry Valleys, a relatively ice-free region that is intensively studied by scientists as a unique polar desert ecosystem. In that role, the refueling facility also serves as a way station for cargo to and from field camps in the valleys – one of the many duties that keep Noring on the move all day long, as helicopters ferry sling loads of supplies.
Rounding out the camp staff are a cook – a job held by Karen Moore for the last six seasons, locally famous for her made-from-scratch lunches – and a fuels operator, a position that rotates through Marble Point every week or two from McMurdo Station.
The industrial exterior of the main orange building belies the comfortable social space within. A mud room with shelves of pickled foods leads through the main door and into the kitchen, where Moore is found more often than not unloading a tray of fresh-baked cookies. A small dining room and living room further add to the touch of hominess. It's a place to linger when the work is all done.
Some of those boomtowns that went bust turned into ghost towns. Others thankfully survived, albeit to a slowed down pace – the sort of places one might pull off the superhighway for a slice of homemade pie and conversation before hitting the road again. Even distinguished visitors – from U.S. Congressman and military generals – have made a point to stop at Marble Point: the research station that almost was.
"We're a victim of our own success," Noring said. "It's just kind of evolved into what it is."