| | |
| --- | --- |
| Photo Credit: John Cassano | An Aerosonde Mk4.4 unmanned aerial vehicle (UAV) launches from the top of a pickup truck at the Pegasus White Ice Runway in September 2009. Scientists are returning to Antarctica this month to use the UAV and a model-airplane sized UAV to study atmospheric conditions. |
Crossing boundaries
UAVs fly high in the sky to help with atmospheric studies
Posted August 24, 2012
There's typically a lag in traffic above the airspace around McMurdo Station

during the month of September following a series of early winter flights in August and the beginning of the Antarctic summer field season in October.
Not so this year.
But the aircraft that will buzz overhead won't be the usual cadre of planes, such as U.S. military C-17s or LC-130s. Nor will the turboprop Twin Otters be seen. Instead, much smaller unmanned aerial vehicles (UAVs) will fly around Ross Island and much farther afield for research on atmospheric dynamics in Antarctica.
"There's a lot of potential," said John Cassano

of the Small Unmanned Meteorological Observer (SUMO) aircraft, which he and his team first tested around the McMurdo region last January during the 2011-12 field season.
Sporting a wingspan of 80 centimeters and looking like any radio-controlled hobby airplane (in fact, a modified Multiplex FunJet), the SUMO weighs less than half a kilogram and can fly as fast as 35 meters per second (m/sec), though generally cruises at around 15 m/sec. It can soar up to 3.5 kilometers with a maximum range of 27 kilometers with 30 minutes of battery life.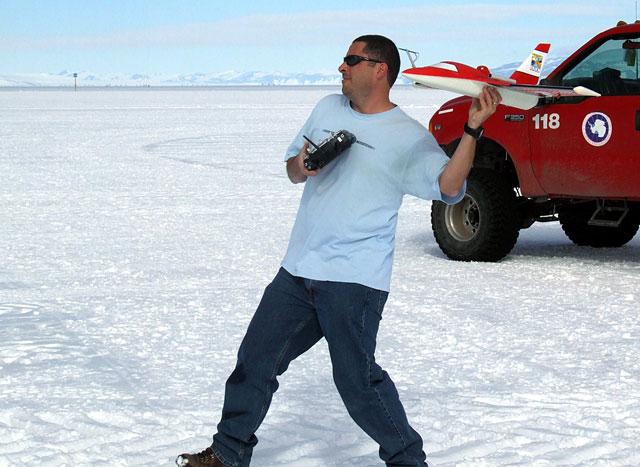 Photo Credit: Alice DuVivier
Scientist John Cassano launches a SUMO UAV near McMurdo Station in January 2012.
But it comes with a few extra tricks – i.e., science sensors that allow it record temperature, pressure, humidity and wind continuously.
"It's basically a flying radiosonde," said Cassano, an associate professor in the Department of Atmospheric and Oceanic Sciences

and a Fellow of the Cooperative Institute for Research in Environmental Sciences (CIRES) at the University of Colorado in Boulder

.
A radiosonde is an instrument often flown on weather balloons that measures various atmospheric properties and transmits the data to a fixed receiver. In the case of the SUMO aircraft, it relays its information back in real-time to a laptop, which researchers can also use to pilot the plane or allow it to carry out a pre-programmed mission.
Four days of tests last January provided some interesting glimpses into the atmospheric boundary layer (ABL), the lowest part of the troposphere that is important for understanding processes involving exchanges between the planet's surface and the atmosphere.
"One of the great uses for the SUMO is that you can do repeated profiles up and down and watch the time evolution of the boundary layer," Cassano said during a presentation of his initial results at the Seventh Annual Antarctic Meteorological Observation, Modeling, and Forecasting Workshop

in Boulder. "We saw a wide range of boundary layer behaviors."
The high-resolution atmospheric profiles produced by the SUMO aircraft will be useful for sanity checking weather forecasts coming from the Antarctic Mesoscale Prediction System (AMPS)

in the future, he said.
"For the SUMO flights, we will look solely at the ABL in the vicinity of McMurdo with a focus on the very stable wintertime boundary layer," Cassano said later via email shortly before heading south to McMurdo Station. "These strongly stable boundary layers are a persistent problem for weather and climate models. … The data we collect will help us to both evaluate how the models are doing with their representation of the boundary layer and also to, hopefully, find ways to improve this in future models."
AMPS runs at a fairly high resolution, about one kilometer around Ross Island, but typically can only be compared against weather station data coming from sites spaced from 10 to 100 kilometers apart. "The models simulate features which look realistic at these high resolutions, but without high-resolution observations, we don't know if the models are simulating realistic features," he said.
A bigger, wider-ranging UAV called an Aerosonde has already proven its potential for unique atmospheric studies during a previous field campaign for ongoing research into a polynya some 300 kilometers from McMurdo Station in an area called Terra Nova Bay

. (See previous article — Pulse on polynyas: Scientists to employ UAV to measure atmosphere over sea ice phenomenon.]
Polynyas (pronounced "puh-LIN-yuhs") are areas of open water surrounded by sea ice. They're particularly interesting to atmospheric scientists like Cassano because of the strong exchange of heat and moisture between the ocean and air — a process normally shielded by the presence of sea ice. The Terra Nova polynya is formed by powerful katabatic winds that sweep from the interior of the continent to the coast, clocking in at up to 250 kilometers per hour.
"This is an interesting place from an atmospheric perspective," said Cassano, the principal investigator on the Terra Nova Bay polynya project, which was recently renewed for a second grant period by the National Science Foundation's Office of Polar Programs

. He recently presented some of the results from that research in July at the Scientific Committee on Antarctic Research

Open Science Conference in Portland, Ore.
During the 2009-10 field season, Cassano and his team flew the Australian-built Aerosonde

MK4.4 a total of about 11,000 kilometers over more than 130 flight hours, representing the longest sustained flights by a UAV in Antarctica at the time. This year, the team will return with two similar Aersondes and a pair of larger UAVs that can fly up to 20 hours during one mission.
"I think the most significant result from the 2009 Aerosonde flights was getting the first in-situ observations of the atmosphere and the polynya surface state — like the varied types of sea ice around the polynya — that was never observed before," Cassano said. "The data will give us a chance to evaluate weather and climate models for an environment that until now has not been evaluated carefully."
Like with the SUMOs, the data from the high-flying instrument offer a way to check reality against weather models. In the case of the Terra Nova Bay region, the observations show some deficiencies in the models, according to Cassano.
"The heat going from the ocean to the atmosphere in the polynya is underestimated by a factor of 10 in some of the models," he said.
The science goals for the Aerosonde campaign this year are similar to the previous field season: the researchers want to measure how much heat, moisture and momentum are transferred between the atmosphere and the polynya, as well as what factors control those exchanges.
"We get a lot of information from a relatively simple platform," Cassano said. "We couldn't do it any other way. We had to use autonomous observing systems."
NSF-funded research in this story: John Cassano, Scott Palo and Shelly Knuth, University of Colorado at Boulder, Award No. 1043657

; John Cassano and Maslanik, University of Colorado at Boulder, Award No. 0739464

. The 2009 project was collaborative effort with Arnold Gordon, Chris Zappa and Richard Cullather at Lamont-Doherty Earth Observatory.