| | |
| --- | --- |
| Photo Credit: James Yungel, NASA/Antarctic Photo Library | The calving front of the Thwaites Ice Shelf in West Antarctica. Scientists announced this week that ice melt in the region has reached a tipping point. They say global sea level is certain to rise in the coming centuries. |
Unstoppable
Two high-profile studies: Collapse of parts of West Antarctic Ice Sheet inevitable
Posted May 16, 2014
Two high-profile studies, one funded by the National Science Foundation (NSF)

, published this week suggest the West Antarctic Ice Sheet has entered a stage of inevitable collapse, though the process make take centuries to unfold.
NSF-funded researchers at the University of Washington

have concluded that Antarctica's fast-moving Thwaites Glacier will likely disappear in a matter of centuries, potentially raising sea level by more than a half-a-meter, or about two feet.
Data gathered by NSF-funded airborne radar, detailed topography maps and computer modeling were used to make the determination. The findings are published in the May 16 edition of the journal Science.
The ice sheet, much of which lies below sea level, contains enough ice to cause another three to four meters (10 to 13 feet) of global sea-level rise.
"There's been a lot of speculation about the stability of marine ice sheets, and many scientists suspected that this kind of behavior is under way," said Ian Joughin

, a glaciologist at the university's Applied Physics Laboratory (APL)

and the first author on the paper. "This study provides a more quantitative idea of the rates at which the [ice sheet] collapse could take place."
The paper's co-authors are Benjamin Smith

, a physicist at APL, and Brooke Medley

, a former University of Washington doctoral student, now at NASA's Goddard Space Flight Center

.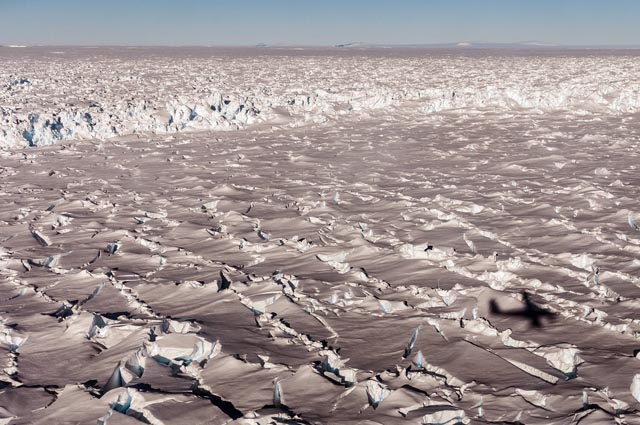 The heavily crevassed surface of Pine Island Glacier Ice Shelf, which holds back another river of ice that is rapidly retreating, according to scientists.
The new discovery is among a series of significant findings that derive from research funded by NSF during the International Polar Year (IPY) 2007-2009

, during which scientists from more than 60 nations focused their efforts on research in the Arctic and Antarctic. NSF was the lead U.S. agency for the IPY. [See previous article — IPY Legacies: Scientific campaign brings new insights to East Antarctica, broadens international collaboration.]
Concurrently, a new study by researchers at NASA and the University of California, Irvine

, accepted for publication in the journal Geophysical Research Letters, finds a rapidly melting section of the West Antarctic Ice Sheet appears to be in an irreversible state of decline, with nothing to stop the glaciers in this area from melting into the sea.
The study presents multiple lines of evidence, incorporating 40 years of observations that indicate the glaciers in the Amundsen Sea sector of West Antarctica "have passed the point of no return," according to glaciologist and lead author Eric Rignot

, of UC Irvine and NASA's Jet Propulsion Laboratory (JPL)

in Pasadena, California.
"This sector will be a major contributor to sea level rise in the decades and centuries to come," Rignot said. "A conservative estimate is it could take several centuries for all of the ice to flow into the sea."