Around the Continent—Research Station Updates
Catch up with the latest events at the U.S. Antarctic Program's research stations.
McMurdo Station
Palmer Station
South Pole Station
Take a look at Antarctica yourself by visiting the McMurdo Station Webcams

, the South Pole Station Webcams

, or the Palmer Station Webcams

Station pulls together for winter-time medical evacuation
Posted May 20, 2013
On Tuesday, April 16,the rumors around the dinner table started humming. The people in Fleet Operations knew they had a meeting first thing in the morning to discuss the white ice runway at Pegasus Airfield

.
The ice runway? What was there to discuss? The ice runway is supposed to remain buried until August when we normally get our next flight.
The next day it all made sense. One of our community members needed to leave due to a medical emergency, and he needed to leave quickly.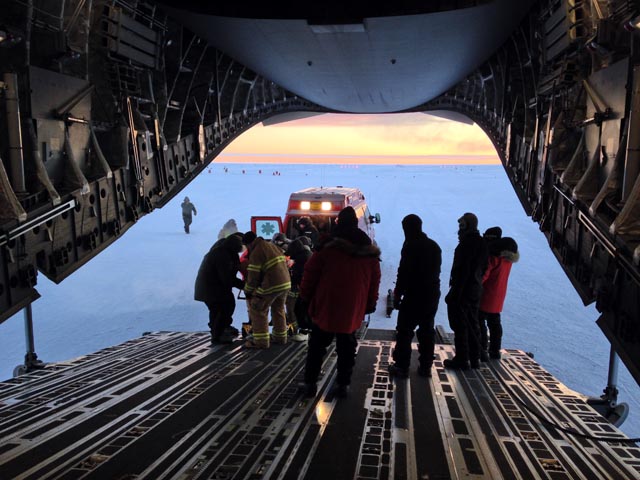 Photo Courtesy: Joint Task Force-Support Forces Antarctica
A C-17 Globemaster III crew from Joint Base Lewis-McChord, Wash., alongside aeromedical evacuation and critical care air transport team members, safely evacuate a patient from McMurdo Station, on April 22.
The ice runway was covered in up to 10 inches of compacted snow. The electricians would need to hook up power; the fuelies would need to build a fuel pit. Other tasks included setting up lights for the runway, heat for the buildings and many other things to ensure the runway was safe for a plane to land at the start of our winter.
For many, their normal 10-hour shift became around-the-clock 12-hour shifts. The galley, once a buzz with rumors of a medevac, was now staying open later to feed those who were working atypical winter hours.
The weather was the only entity in McMurdo Station

that did not cooperate with our need to get this runway running. The temperatures were consistently below minus 40 degrees Fahrenheit.
It was projected to take more than a week before the Air Force

could land a C-17 Globemaster III

. Instead, thanks to the hard work of everyone in McMurdo, the plane arrived on Monday, April 22.
Taking only six days to turn a snowfield into an Air Force-ready runway speaks for itself. We are a community dependent only on each other right now, and when our mettle was tested, we came together for one of our own.
And we had to do it all over again in May when a second medical evacuation occurred.

Something fishy going on around Palmer Station
Posted May 20, 2013
Winter has come to Palmer Station

, and it's brought more than just high winds. This winter Palmer Station is host to a number of groups studying the Antarctic fish, as well as researchers from various fields.
Braving the rough seas of the Southern Ocean, the first group to arrive hails from the University of Oregon

, under the guidance of principal investigator John Postlethwait

.
Postlethwait's team is studying the genetic and phenotypic difference between those Notothenioidei that have lightweight skeletons, such as the blackfin icefish (Chaenocephalus aceratus) and those that have normal skeletal structure yellowbelly rock cod (Notothenia coriiceps). The goal of this study is to find those genetic pathways the may be related to bone loss due to aging in humans. [See previous article — Raising Notothenioidei: Scientists successfully develop icefish embryos for evolutionary studies.]
The second group to arrive is headed by Kristin O'Brien

, from the University of Alaska Fairbanks

, who is studying the differences in respiratory and cardiovascular systems between those fish that have hemoglobin, which gives blood its red coloration, and those fish whose blood lacks hemoglobin, the so-called white-blooded icefish.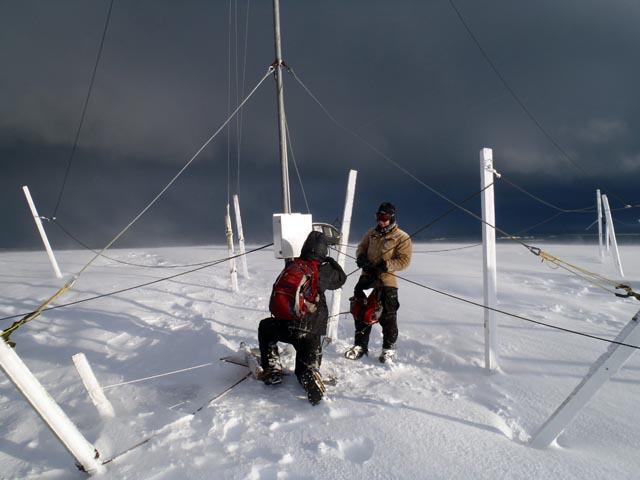 Photo Credit: Yuki Takahashi
Scientists work on a very low frequency antenna for observing lightning and related phenomena.
The goal of this study is to determine whether those Antarctic icefish that lack hemoglobin enjoy an advantage in comparison to red-blooded fish in the frigid waters around Antarctica.
In addition to the new science groups that have arrived this season, Palmer continues to support the ongoing research into ocean acidification and its effects on native Antarctic organisms.
Headed by long-time science mainstays, Chuck Amsler and James McClintock

, both from the University of Alabama at Birmingham

, one of the goals of this research is to look at how future changes in the pH of Southern Ocean, whose cold waters more readily absorb carbon dioxide, may fare when combined with rising seawater temperatures.
Palmer also played host to two short-term science projects: One study involved permafrost, which covers a number of islands near Palmer Station, and the amount of loss caused by climatic warming trends. The other research looked at lightning in the ionosphere and other electrical phenomenon that can be observed with low-frequency antennas.
Despite the cold weather, and shortening daylight hours, there is no stopping the research taking place on the Antarctic Peninsula and Palmer Station.

Extreme temperatures and night sky highlights in April at Pole
Posted May 10, 2013
The sun has fully set, the moon has risen, and it's open season on Aurora Australis.
South Pole Station

is a whole new world in the winter — silvery moon light crisply delineating deep shadows. Beacons of red light identify out-buildings and flag lines lead to the more distant ones. It was a bit of a surprise for some how disorienting it can be in the darkness, but with the moon up, it's quite bright.
The month of April kicked off with the lowest temperature we've seen yet this season: minus 98.9 degrees Fahrenheit. Just a week later, it was back up to the month's high of minus 40.9F on April 9. A series of wind storms came through mid-month, with gusts up to 40 miles per hour. The subsequent drifting and sastrugi are just enough to derail the casual pedestrian craning their neck for a look at the stars and dancing auroras.
With temperatures the last few weeks between minus 75F and minus 85F, it's been too cold to operate much equipment. It's definitely cold, a whole new meaning of the word for those who are new to the Ice.
The soft leather on my camera strap shattered, and extension cords can be cracked in half. Thankfully, our extreme cold weather (ECW) gear has served us well, and everyone's been fairly well prepared. One would hope, at least, that agreeing to winter at the South Pole would come with the expectation it to be cold.
Science here at the South Pole is chugging along smoothly. The IceCube Observatory

consortium had a major paper published this month in Physical Review Letters showing possible signs of two high-energy neutrino events from beyond our galaxy. [See previous article — Energetic excitement: Finding by IceCube scientists suggests extragalactic neutrinos.]
According to Thomas Gaisser

, an IceCube member at the University of Delaware

in Newark, this event is quiet important as "astronomers and physicists have collected the flighty neutrino particles emitted in the sun and from supernovae [for years]. But being able to observe distant sources from outside the galaxy would take the field to a new level, and would be a sign that IceCube is now working like a telescope."
International Yuri's Night was celebrated on April 12 in honor of Yuri Gagarin, the first man in space. It was complete with space-related — and plain crazy — costumes. On April 25, a more somber event was hosted by our resident Australian for ANZAC (Australia and New Zealand Army Corps) Day, with freshly baked ANZAC biscuits and a showing of Gallipoli.
Other social events this past month included bingo, kickball, a movie marathon, and the premier showing of Thin Ice

on Earth Day.