Features - Artists and Writers Program
Most Recent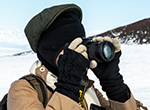 The Worst Journey - and the Best Journey to Create a Polar Expedition Graphic Novel
Features / Artists and Writers Program
Monday June 15, 2020
Artist Sarah Airriess is sharing one of the most celebrated accounts of the golden age of Antarctic exploration with a new generation. The Worst Journey in the World is the acclaimed memoir by Apsley Cherry-Garrard, a member of Robert Falcon Scott's final, ill-fated Antarctic expedition.
Hacking Science with Microscopic Photography
Features / Artists and Writers Program
Monday June 03, 2019
Ariel Waldman is a true renaissance woman. As an artist, author, innovation advisor, and scientist (often all at the same time) she built a career fueled by her passion for making science as accessible as possible. She spent five weeks in Antarctica collecting and photographing microorganisms that live in the glaciers, sea ice and ponds in the Dry Valleys and on Ross Island.
Quick Find
Archives
2021
2020
2019
2018
2017
2016
2015
2014
2013
2012
2011
2010
2009
2008
2007
Print Issues: 1996-2006
More Results
Apr


28


2016
The Aesthetics of Antarctic Architecture
The current aesthetics of McMurdo station and its field camps are not likely to go down in history as great achievements of modern architecture. But for photographer Shaun O'Boyle, this weathered, utilitarian look was a part of what attracted him to Antarctica.
Jun


29


2015
All Creatures Great and Small
The story of how Los Angeles-based artist Lily Simonson ended up scuba diving under the sea ice in Antarctica begins with a tale about lobsters, moths and yeti crabs.
Oct


30


2014
Through the Looking Glass
There's a saying that necessity is the mother of invention. April Surgent discovered that being trapped by ice at a research station in Antarctica for the better part of two months required a little flexibility and ingenuity when it came to fulfilling her artistic vision.
Feb


14


2014
Little Oblivion
After graduating with a Masters of Fine Arts degree, Susan J. Allspaw Pomeroy did what any other poet and academic would do: She jumped on a research boat to Antarctica to work as a tech writer. More than a dozen years later, Pomeroy published her debut book of poetry about her first love: Antarctica.
Dec


27


2013
Poetic License
When poet Jynne Martin learned the National Science Foundation sponsored an Antarctic Artists and Writers Program, she immediately applied for a chance to visit the place of her childhood dreams. She followed seals and scientists in the pursuit to learn about the research for her next book of poetry.
Aug


08


2013
Not Flat
Katharine Coles isn't your stereotypical poet. She founded the Utah Symposium in Science and Literature, and she comes from a family of scientists. So it certainly wasn't a stretch that her interest in science would take her to Antarctica on a grant from the National Science Foundation.
May


02


2013
Final Countdown
Anthony Powell has been working on his documentary about the world's coldest continent for about a decade now. Finally, Antarctica: A Year on Ice will start hitting movie theaters this summer.
Apr


12


2013
Airy Words
Charles Hood's latest work, South x South, celebrates Antarctica's aviation history and unique culture through a series of poems, from the playful to the meditative. His work was supported by a grant from the NSF's Artists and Writers Program.
Mar


15


2013
Developing New Perspectives
Larissa Min's family is originally from Korea. She was born in Brazil. At age 12, her family migrated from South America to the United States. The creative writer naturally tackles themes of identity and displacement. Her next continental shift will take place in Antarctica.
Jan


27


2012
Embedded with scientists
Chris Linder has taken part in two dozen research expeditions over the last decade, many of them to the polar regions. It seemed only a matter of time before he produced a book on his experiences from four of those expeditions, including one to Antarctica and a visit with the continent's iconic bird, the Adélie penguin.
Aug


26


2011
Birth of Antarctic Science
Historian Edward Larson believes an important thread is missing from the vast tapestry of lore that has been spun about the Heroic Age of Antarctic Exploration. Many of the men who toiled, suffered and even died in the early 20th century did so first and foremost in the pursuit of science.
Aug


19


2011
The Art of Science
Poet Katharine Coles went to Palmer Station on an Antarctic Artists and Writers grant from the National Science Foundation. What compelled her to go? She answers as only a poet can: Truth, of course. Cheek-to-cheek contact with the sublime. Insight into the nature of reality.
Feb


11


2011
Science Takes Off
Charles Hood's book will explore the relationship between aviation and science in Antarctica. He wonders: Is there really a strong relationship between flying and doing research? The answer from the scientists themselves: It's simple. No airplanes means no science.
| | | |
| --- | --- | --- |
| Results 1 through 15 of 33 | Page 1 of 3 | |