Features - Artists and Writers Program
Most Recent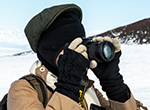 Features | Artists and Writers Program
Monday June 15, 2020
Artist Sarah Airriess is sharing one of the most celebrated accounts of the golden age of Antarctic exploration with a new generation. The Worst Journey in the World is the acclaimed memoir by Apsley Cherry-Garrard, a member of Robert Falcon Scott's final, ill-fated Antarctic expedition.
---
Features | Artists and Writers Program
Monday June 03, 2019
Ariel Waldman is a true renaissance woman. As an artist, author, innovation advisor, and scientist (often all at the same time) she built a career fueled by her passion for making science as accessible as possible. She spent five weeks in Antarctica collecting and photographing microorganisms that live in the glaciers, sea ice and ponds in the Dry Valleys and on Ross Island.
---
Quick Find
Archives
2023
2022
2021
2020
2019
2018
2017
2016
2015
2014
2013
2012
2011
2010
2009
2008
2007
Print Issues: 1996-2006
More Results
---
---
---
---
---
---
---
---
---
---
---
---
---
| | | |
| --- | --- | --- |
| Results 1 through 15 of 33 | Page 1 of 3 | |