Science - The Biological World
Most Recent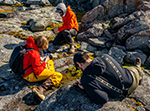 Insects in the Extreme
Science / The Biological World
Monday June 29, 2020
Scientists are taking a close look at Antarctica's largest land animal. It's a small insect called the Antarctic midge, and they don't grow much bigger than a fingernail.

Facing the Ultimate Acid Test
Science / The Biological World
Monday May 11, 2020
Some of the Southern Ocean's smallest animals are facing big challenges. The once-exceedingly stable Southern Ocean around Antarctica is warming, and as it absorbs carbon dioxide from the atmosphere, it is also growing more acidic.
Quick Find
Archives
2020
2019
2018
2017
2016
2015
2014
2013
2012
2011
2010
2009
2008
2007
Print Issues: 1996-2006
More Results
Apr


14


2020
Masses of Mosses
As the continent warms, Antarctica is getting greener. Plants are taking hold where glaciers once covered the landscape. Moss in particular is sprouting up in new spots where it had been previously inhospitable. While moss isn't a new arrival to the continent, its spread could mean big changes for the ecosystems of Antarctica.
Apr


01


2020
A Seal Grows In Antarctica
Weddell seals thrive in some of the coldest conditions on the planet, but scientists aren't quite sure why they don't freeze when they're first starting out. Weddell seals thrive in some of the coldest conditions on the planet, but scientists aren't quite sure why they don't freeze when they're first starting out.
Jan


06


2020
Larvae La Vida Loca
As oceans warm around the world, the creatures that live in them are feeling the effects. In regions like the Southern Ocean surrounding Antarctica, which has been unchanged for millennia, researchers worry that even small fluctuations in water temperatures can have major effects on the marine ecosystem.
Feb


05


2019
Penguins From SPAAAAAACCCE
Scientists want to know how many emperor penguins there are in the world, and they're using Earth-observing satellites to count them.
Jan


07


2019
Stressed Out Fish?
Climate change is expected to be stressful on fish species worldwide: as the climate warms, so too will the oceans, putting a strain on creatures that depend on consistent water temperatures.
Dec


21


2018
50 Years Of Weddell Seals
For a half a century, generations of researchers have studied various aspects of the life cycle of generations of Weddell seals around Antarctica's McMurdo Sound, making them some of the most closely studied mammals on the planet.
Aug


29


2018
An Ecosystem Grows in Antarctica
Antarctica's native microorganisms are a hearty bunch, able to eke out a living on the planet's coldest, highest, driest, windiest and emptiest continent. But the region wasn't always quite as hospitable as it is today.
May


31


2018
A World-Class Classroom At The Bottom Of The World
For early-career scientists, learning the ropes in Antarctica can mean donning actual safety lines and harnesses. This past austral summer, 20 students traveled to the National Science Foundation's McMurdo Station to conduct a range of experiments and learn first-hand what it's like to do research at the bottom of the world.
May


15


2018
Ultraviolet Radiation Gives Microbes Mixed Messages
Ultraviolet rays from the sun may be disrupting the natural ecology of the waters of Antarctica's Southern Ocean. A research team, led by a scientist from the Woods Hole Oceanographic Institute, is taking a close look at the effects that excess UV radiation at the cellular level to see what it means for marine ecosystems and the regional food web.
Apr


24


2018
Climate Change In The McMurdo Dry Valleys
The McMurdo Dry Valleys ecosystems are changing because of climate change. In a paper published in the journal Ecology in January researchers said they've tracked the decline of the microorganism living in the Dry Valleys' barren soils. More frequent extreme weather events are driving down the population of the nematode Scottnema lindsayae, a microscopic roundworm, which makes up about 90 percent of the species that live in the Dry Valleys.
Apr


10


2018
Why Antarctic Fish Don't Freeze Their Tails Off
An innovative project to understand how fish survive in the frigid Antarctic waters is opening up new avenues for researchers monitoring what goes on under the sea ice in McMurdo Sound. Evolutionary biologist Paul Cziko from the University of Oregon is studying how Antarctic fish don't, themselves, freeze into a solid block while spending their lives in subzero waters.
Mar


06


2018
Sea Drifters
The menagerie of drifting ocean creatures that lives off the coast of Palmer Station was under the microscope more than ever this past austral summer. A team of scientists spent five months at the station studying the tiny creatures that drift along the ocean currents. It's the first time the research team studying these zooplankton spent an entire field season at Palmer Station analyzing changes over time in the abundance of different species.
Oct


31


2017
Life In A Cryoconite Hole
Diverse ecosystems that teem with life thrive just below the surface of many Antarctic glaciers. Small, frozen holes full of liquid water and microorganisms entombed by ice dot the surfaces of glaciers. Researchers in Antarctica are studying them to glean new insights into how these habitats form, and learn what they might be able to reveal about ecosystems around the world.
| | | |
| --- | --- | --- |
| Results 1 through 15 of 146 | Page 1 of 10 | |