Science - The Biological World
Page 2 of 10
The Edge Of Life
Science / The Biological World
Tuesday September 19, 2017
Researchers working in Antarctica's McMurdo Dry Valleys found evidence, in ancient dried microbial mats, of microorganisms that may have been alive for thousands of years. The discovery could have implications for biology in other parts of the world and even on other planets, such as Mars.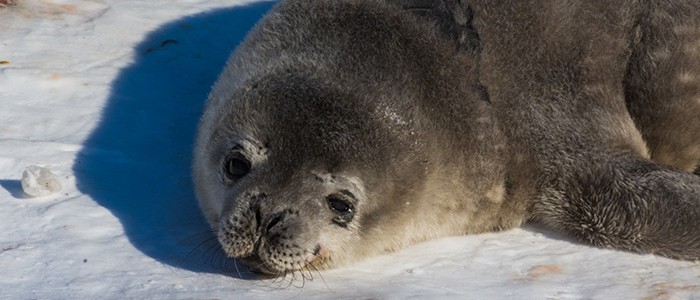 Seals Don't Waste their Breath
Science / The Biological World
Monday March 27, 2017
The ubiquitous Weddell seals that live around McMurdo Station are the region's undisputed diving champs, able to hold their breath for 90-plus minutes. That's at least three times as long as any other air-breathing animal in the region. It's an impressive feat, and how they're able to stay under for so long is what Emmanuel Buys and his team have been investigating over the past two seasons in Antarctica.
Quick Find
Archives
2020
2019
2018
2017
2016
2015
2014
2013
2012
2011
2010
2009
2008
2007
Print Issues: 1996-2006
Dec


14


2016
Glue Genes
At the mouth of the McMurdo Dry Valleys, along a small spit of land called New Harbor, a team of scientists and divers have worked for decades to unlock the genetic secrets of foraminifera, some of the world's largest single-celled organisms.
Jun


21


2016
Antibiotics from a Sponge
A newly discovered chemical compound found in an Antarctic sea sponge shows promise as a potential way to develop treatments against the fortified form of some of the most virulent antibiotic-resistant infections.
Mar


24


2016
The Dissolving Sentinels of the Southern Ocean
Scientists are increasingly finding sea snails with abrasions all over their tiny spiral shells, but these scuffs aren't just wear and tear. They're ominous signs that a foundational link in the Southern Ocean's food chain could be facing an existential crisis in waters that are becoming increasingly acidic.
Dec


02


2015
Weighing Seals Without Scales
Scientists working on the longest-running Antarctic seal population study are using a new technique that needs little more than an off-the-shelf digital camera to turn photos of Weddell seals into important new data in their continuing research.
Nov


16


2015
Secrets of the Gigantic Sea Spiders
The average sea spider in McMurdo Sound is neither itsy nor bitsy. Although they live in oceans all over the world, to find the really enormous ones, scientists have to trek to Antarctica. It's a phenomenon called polar gigantism, and scientists are studying these marine giants as part of a U.S. Antarctic Program-supported team led by Amy Moran at the University of Hawaii at Manoa.
Jan


21


2015
In the Zone
Two years ago, a team of scientists, engineers and technicians broke into a subglacial lake nearly a kilometer underneath the West Antarctic Ice Sheet. Now the group has for the first time drilled through an ice shelf near where the ice is attached to the seafloor, a critical area of ice-ocean dynamics known as the grounding zone.
Dec


22


2014
Magnetic Personality?
The ability for Weddell seals to return to the same breathing hole from more than a kilometer away caught the attention of researchers who are investigating whether the seals employ a magnetic sense to navigate under sea ice.
Nov


13


2014
A Weighty Problem
Researchers recently reported a connection between local weather conditions and the weight of Adelie penguin chicks in an article in Marine Ecology Progress Series, a top marine ecology journal.
Nov


06


2014
Born to Motherhood
She did it again. A 32-year-old Weddell seal mom has survived another winter and returned to her breeding colony to give birth to her 22nd pup. This is a new Weddell population study record.
Oct


09


2014
Self-Exile
The latest study in a project that has been supported by the National Science Foundation suggests that Weddell seals in Antarctica can remain flexible even in the face of changing environmental conditions.
Oct


02


2014
Good Things in Small Packages
It makes sense that life in extreme environments requires an organism to be "lean and mean" to survive. The recently sequenced genome of Antarctica's only endemic insect suggests that may apply genetically as well.
Sep


18


2014
Life Among the Emperors
From making the first measurements of the diving depth of an emperor penguin in the 1960s to tracking their colonies with satellites, Gerald Kooyman's long career studying the physiology and populations of marine vertebrates has made him one of the world's leading experts on Antarctica's iconic seabird.
Sep


11


2014
Split the Difference
A sea star is a sea star is a sea star. Right? The answer to that question is not particularly straightforward, particularly when attempting to address species diversity around the entire Antarctic continent.
| | | |
| --- | --- | --- |
| Results 16 through 30 of 146 | Page 2 of 10 | |