Science - The Biological World
Most Recent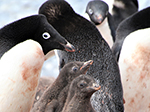 The stone thieves
Science / The Biological World
Tuesday November 09, 2021
Adelie penguins often steal stones from each other's nests, but new research shows the wily birds target some nests more than others.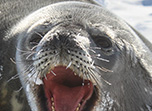 Scoping out the seal mating scene
Science / The Biological World
Monday September 20, 2021
Biologists have been observing how male Weddell seals secure prime locations when courting females to learn more about the southernmost mammal's mysterious breeding behavior.
Quick Find
Archives
2021
2020
2019
2018
2017
2016
2015
2014
2013
2012
2011
2010
2009
2008
2007
Print Issues: 1996-2006
More Results
Sep


07


2021
Meet the Penguin Misfits
Looks are important for Adelie penguins, but they may not be as critical for breeding as biologists previously thought. New research shows Adelie penguins with unusual coloring still manage to breed successfully, contrary to what biologists had predicted.
Aug


23


2021
Coldest, Driest, Saltiest Antarctic Soils Might Be Inhospitable To Life
Some Antarctic soils might be the only environments on Earth microbes can't colonize, a finding that goes against scientists' expectations of our planet's habitability. Most scientists assume microbes can inhabit every environment on Earth, given enough time, but new research finds that some of the coldest, saltiest, and driest soils in the Transantarctic Mountains show no signs of viable microbial life.
Mar


29


2021
Cruising for Mollusks
Scientists are going to the ends of the Earth to discover all they can about an obscure group of sparkly, worm-like mollusks. There's lots of these critters living on the seafloor surrounding Antarctica, but they're not easy to get at and only a few scientists are studying them.
Mar


15


2021
Charting a Genetic Sea Change
Scientists are mapping the coastline of ancient Antarctica using DNA from underwater invertebrates alive today. In October, despite the ongoing COVID pandemic, a team of researchers sailed from California to Antarctica to bring back the sea creatures with evidence of a long-lost transantarctic sea coded into their genes.
Feb


15


2021
On the Wings of Petrels
Ecologist Donna Fraser carefully makes her way across a low rocky ridge towards a mass of gray feathers with a beak. It's the baby chick of a southern giant petrel.
Feb


01


2021
Counting on Seals
Seal science in Antarctica continues, even as the COVID-19 pandemic spread across the world. Fewer researchers and support staff traveled to Antarctica in 2020 to reduce the risk of introducing the virus to the continent. One of the few science teams that did go is working on the long-term study of Weddell seals in McMurdo Sound.
Jan


18


2021
Weddell Seals Sing Songs Humans Can't Hear
The seals of McMurdo Sound are more vocal than previously thought. A new research paper published in the December edition of The Journal of the Acoustical Society of America shows that Weddell seals vocalize underwater at frequencies too high for humans to hear.
Nov


30


2020
An Aerial Assessment of Adelie Penguins
Flying robots are helping scientists track the population of Adelie Penguins. This past austral summer, researchers flew a small fleet of coordinated unmanned aerial vehicles, or "UAVs," over Cape Crozier, one of the largest Adelie penguin colonies in the world, photographing it in greater detail than ever before.
Sep


01


2020
Detecting Anomalous Life Swarms
The seas around Antarctica are alive, but that life is not evenly distributed everywhere. Vast regions of barren ocean are punctuated by oases of concentrated nutrients that create hotspots of biological activity.
Jun


29


2020
Insects in the Extreme
Scientists are taking a close look at Antarctica's largest land animal. It's a small insect called the Antarctic midge, and they don't grow much bigger than a fingernail.
May


11


2020
Facing the Ultimate Acid Test
Some of the Southern Ocean's smallest animals are facing big challenges. The once-exceedingly stable Southern Ocean around Antarctica is warming, and as it absorbs carbon dioxide from the atmosphere, it is also growing more acidic.
Apr


14


2020
Masses of Mosses
As the continent warms, Antarctica is getting greener. Plants are taking hold where glaciers once covered the landscape. Moss in particular is sprouting up in new spots where it had been previously inhospitable. While moss isn't a new arrival to the continent, its spread could mean big changes for the ecosystems of Antarctica.
Apr


01


2020
A Seal Grows In Antarctica
Weddell seals thrive in some of the coldest conditions on the planet, but scientists aren't quite sure why they don't freeze when they're first starting out. Weddell seals thrive in some of the coldest conditions on the planet, but scientists aren't quite sure why they don't freeze when they're first starting out.
| | | |
| --- | --- | --- |
| Results 1 through 15 of 157 | Page 1 of 11 | |