Features - Recent Headlines
Most Recent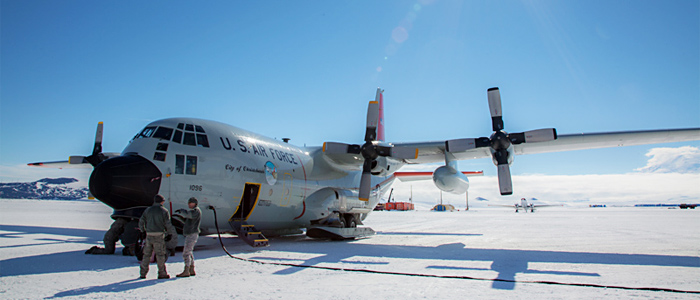 Making a Difference
Features / People Profiles
Tuesday May 19, 2015
Col. Denise M. Donnell has chased pirates in the South China Sea and flown all manner of aircraft, from the sub-hunting P-3 Orion to the massive, cargo-carrying C-5 Galaxy. But perhaps one of the best parts of her job brings her to Antarctica each austral summer.

Day of Remembrance
Features / Life on the Ice
Monday May 11, 2015
On April 25, New Zealand's Scott Base crew invited McMurdo Station residents to make the two-kilometer trip over the hill and join them in celebrating ANZAC Day, a holiday honoring the fallen soldiers from the Australia and New Zealand Army Corps in World War I and subsequent conflicts.
Quick Find
Archives
2015
2014
2013
2012
2011
2010
2009
2008
2007
Print Issues: 1996-2006
More Results
May


04


2015
Remote Recovery
After more than two years since launching the SuperTIGER Long Duration Balloon, a joint team of scientists, mountaineers and support personnel finally recovered the buried instrument from a remote spot in the middle of Antarctica earlier this year.
Apr


20


2015
Passing of a Legend
Those who knew Capt. Pieter J. Lenie - the scientists who depended on him to reach the unreachable and the crew that depended upon him for their lives - the long-serving master of the research vessel Hero was, well, a hero. His death at age 91 marks the end of an era.
Apr


06


2015
Sorting It Out
A scavenger bird of the Antarctic, skua is also the adopted name for the collection of miscellaneous items that USAP participants leave behind for use by current and future residents. The collection of available skua is never greater than at the beginning of the winter.
Feb


27


2015
Project Complete
Completion of the conservation work at Discovery Hut in January marked the conclusion of a decade-long effort to protect three of the first human-built structures in Antarctica.
Feb


27


2015
American Ingenuity
Two Americans inspired by tales of heroism in the age of exploration in Antarctica had a hand in ensuring that part of the continent's early history will stand the test of time well into this century.
Feb


23


2015
New Priorities
The National Science Foundation's 2016 budget request to Congress calls for $7.7 billion, which represents a 5.2 percent increase over last year. The FY16 budget includes a request for $449.51 million for the Division of Polar Programs.
Feb


20


2015
Running Down a Dream
On a cold, windy Sunday on Ross Island, most residents of McMurdo Station were enjoying the shelter of a warm building and hot food. Not everyone was there. A few braved headwinds and crosswinds, uneven snow, blinding sun reflecting off ice, and capricious weather to run the 20th annual McMurdo Marathon.
Feb


09


2015
Tanker Weather
Every year a fuel vessel, above, arrives at McMurdo Station. Invariably, the weather takes a turn for the worse, with colder temperatures and high winds as the summer comes to an end. This year was no exception.
Jan


28


2015
Big Load
The cargo vessel chartered to resupply two of the National Science Foundation's research stations in Antarctica seems up to the task based on name alone. The MV OCEAN GIANT arrived at McMurdo Station on Jan. 26, with nearly seven million pounds of supplies.
Jan


19


2015
Breaking Through
The U.S. Coast Guard cutter Polar Star reached McMurdo Station on Jan. 18 for a one-day port call before returning to McMurdo Sound to continue clearing a channel in the sea ice.
Jan


16


2015
A Holiday to Remember
My father, Wesley B. Harding, came to Antarctica a little more than 50 years ago to install an early experiment to study cosmic rays from the sun. Strange to think that today I can send emails from a field camp and that balloons with sophisticated solid-state cosmic ray sensors are being launched to altitudes of more than 100,000 feet.
Jan


02


2015
Crossing the Gender Gap
Katy House thought she would live a fairly conventional life and be married with children at her age. Instead, at 27, she is the first woman in the world to travel on the thousand-mile-long South Pole operations Traverse, or SPoT, as a diesel mechanic.
Dec


18


2014
MacOps, MacOps
McMurdo Communications Operations, better known as MacOps, is the nerve center for radio traffic between the research station and field parties as close as the nearby sea ice and as far as field camps hundreds of miles away.
| | | |
| --- | --- | --- |
| Results 1 through 15 of 364 | Page 1 of 25 | |