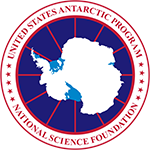 The Antarctic Sun, part of the U.S. Antarctic Program, is funded by the National Science Foundation (contract number NSFDACS1219442). Any opinions, findings, and conclusions or recommendations expressed in this material are those of the author(s) and do not necessarily reflect the views of the National Science Foundation.
Web address: http://antarcticsun.usap.gov/
The Team
The Antarctic Sun is produced by ASC for the U.S. Antarctic Program (USAP).
Peter Rejcek
Peter Rejcek serves as the editor of The Antarctic Sun. He worked for the Sun two austral summer seasons in its previous print incarnation and spent a year at the South Pole (2003-2004) as a carpenter helper. He has been to all three USAP research stations, with more than 24 months of Ice time. Before joining the USAP, he worked more than three years in warmer climes as assistant editor for a newspaper in the Marshall Islands, as well as for daily and weekly papers in Texas for about five years.
Susan J. Allspaw Pomeroy is an Information Security analyst at ASC who has kindly volunteered her free time as a copy editor. She has been involved with the USAP for more than 10 years. She's a published poet, and taught creative writing and composition for six years prior to joining the USAP.
The web developers involved with The Antarctic Sun are experts in designing and managing web sites. They ensure the site meets web standards, root out any technical blips, and polish and publish the pages.
Use of the Sun
Reproduction and distribution are encouraged with acknowledgment of source and author. For more information, see Linking to the Antarctic Sun.
Submissions
Contributions are welcome. Contact the Sun at AntSun@usap.gov for more information about submitting articles, columns or cartoons.