More Articles

Methane Munching Microbes
Science / Oceans and Atmosphere
Wednesday May 24, 2017
VIDEO: Five years ago, a plume of natural methane started seeping out of the seafloor near McMurdo Station, providing researchers an unprecedented chance to study the formation and development of colonies of microorganisms that rely on methane for nourishment.

Tag! You're it!
Science / Earth
Wednesday May 17, 2017
A number of Adelie penguins around the Ross Sea are sporting sophisticated new leg bands this year. Ornithologist David Ainley and his team attached new electronic tags to about 150 penguins to record where each penguin goes and how deeply it dives under water. The tagging project ties in with a broader effort that he's been spearheading for 20 years, monitoring Adelie penguin populations and demographics around Ross Island.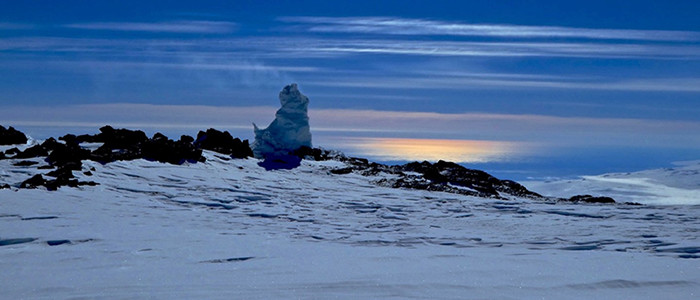 Caves Of Gas
Science / Earth
Wednesday April 26, 2017
Planet Earth is gassy. All over the world, plumes of gasses that formed deep under the planet's surface, pour out of active volcanoes and mix with the atmosphere. Tobias Fischer, a volcanologist at the University of New Mexico, spent two seasons exploring the frozen face of Antarctica's Mount Erebus, the world's southernmost active volcano, to better understand these fumes escaping from the depths of the Earth.
Quick Find
Archives
2017
2016
2015
2014
2013
2012
2011
2010
2009
2008
2007
Print Issues: 1996-2006
Around the Continent