Most Recent
Science | Earth
Thursday October 07, 2021
Antarctica is the most remote continent on Earth, but new research shows it is still connected to what happens in the rest of the world. A new study finds large earthquakes can cause ice on the slopes of Antarctica's Mt. Erebus to quiver and vibrate, even when the quake happens thousands of miles away.
---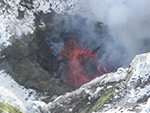 Science | Earth
Monday July 26, 2021
The heat given off by Antarctica's Mount Erebus could help power instruments monitoring the volcano, giving scientists a way to study Erebus's lava lake during the long polar night for the first time. Researchers have found a way to harness the heat from the magma underneath Erebus and turn it into electricity that can power scientific instruments.
---
Quick Find
Archives
2022
2021
2020
2019
2018
2017
2016
2015
2014
2013
2012
2011
2010
2009
2008
2007
Print Issues: 1996-2006
More Results
---
---
---
---
---
---
---
---
---
---
---
---
---
| | | |
| --- | --- | --- |
| Results 1 through 15 of 117 | Page 1 of 8 | |